Previous Guardian Angels
Tia (1998-2012) - Guardian Angel from July 2014 to December 2014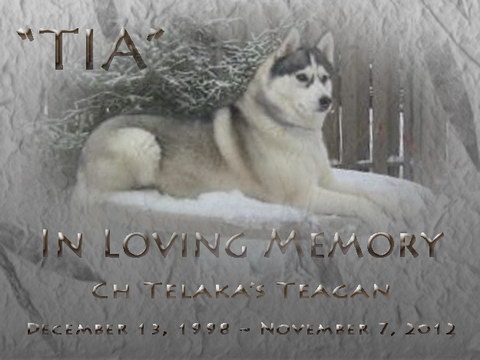 December 13, 1998 -- November 7, 2012
My precious girl gave me her last kisses on Wednesday, November 7, 2012. It's been a rough couple of years for us both. Tia had two surgeries in the last eighteen months to remove a mass on her liver and a tumour on her shoulder. A vet visit and an x-ray a few weeks ago resulted in an ultrasound which revealed yet another mass on her liver, a tumour on her intestine, and an enlarged lymph node. The vet was not optimistic about surgery or the recuperation time it would involve. It was unlikely that even if successful, it would buy Tia any quality time.
She had been losing a lot of weight since the summer, and in the last two weeks refused to eat anything. I think she wanted to, but just couldn't because of the discomfort it caused her. I tried everything--all her favourite foods and treats -- even butter!--but to no avail. She was starving to death. She didn't want "King Kong," she didn't want to go for walkies, and she didn't even want her Greenies. She was very weak and having difficulty with stairs. She was miserable and confused.
This isn't the first time I've helped one of our Siberians to the Bridge, but it's the first time I've had to do it alone.
Tia brought us much joy and we adored her. She went everywhere with John and me and loved meeting people on our travels. She was a great ambassador for the breed, and was a willing participant in any photo op with busloads of tourists who "sent" her to Japan, China, Australia, Korea.
Tia was five weeks shy of her 14th birthday. She was my -- our -- bestest girl. At the Rainbow Bridge, Tia joins John Rempel and
Tristan (1977-1988)
Isolde (1978- 1993)
Kola (1975-1988)
Meggie (1992-2001)
Ursula Rempel
More pictures of Tia can be seen on her dogster page - click here.
Isis (1998-2013) - Guardian Angel from January 2014 to June 2014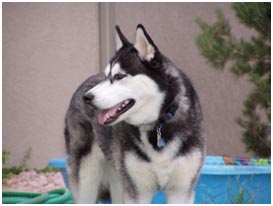 Isis came to us in late spring 1999 after her first owners decided they couldn't keep her. She was such an extraordinary dog, we could never believe they let her go. Words cannot fully capture what a smart, gentle Siberian Husky she was or just how much we miss her. She lived long and well, then left quietly for the rainbow bridge in July 2013.
Isis led a full life, mostly on her own terms, and left us more memories than we can share here. She was our first Siberian Husky, and made us lifelong lovers of her breed.
Isis trained us well. She was a good agility dog, but always hesitated on the teeter, waiting for us to bait it for her. That is, until we caught on. Once she knew we weren't going to load it up any more, she went over just for the joy of it. We thought we were crate training Isis by rewarding her for going into her crate. That is, until she barked from upstairs and we came running, only to find her in her crate calling for "room service." That was Isis!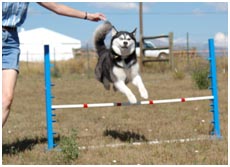 Isis not only trained us well, she inspired us to adopt more Huskies. They were rescues and came with issues. But we knew from life with her who they could be, and eventually they too became precious and wonderful Husky companions.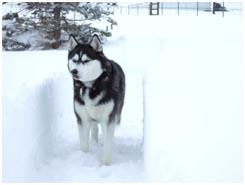 Dear Isis-thank you for all the ways you enriched our lives. Wear your silver harness with pride--though you were never a working sled dog, you DID get a chance once to work out with a real team, and it was in your blood. We know you must be running joyfully in the hereafter with Tucker and all the huskies who have crossed the bridge. We'll see you there one day. Until then, Godspeed, dear friend.
Dave and Ellen Kisker