SOS-SRF has granted over $225,000 since their inception. This has only been possible because of the many individuals and organizations who support our mission and who have made donations (or participated in our auctions). Some donations honour friends or family or dogs who have died; some are made "to help the huskies". We deeply appreciate this support and would like to acknowledge those donors. (We will ask your permission to post your name before doing so.) This is a new initiative as of the fall of 2010, so if you've made a donation prior to that your name may not appear here. If you would like it to, please contact the webmaster (Maureen Lamb on Contact Us page).
In order to continue to support the deserving rescuers and dogs, please consider making a donation. You may make a donation to honor a person, group or special dog. You may choose how your contribution will be listed or you may remain anonymous. Use the PayPal link to the left or visit our Contact Us page for our mailing address.
Another new initiative is our "Featured Guardian Angel" which was introduced in our fall 2011 auction. The high bidder of this auction item is given space on a separate page for six months to honor a former or current Siberian Husky or rescue organization. Click the link on the left to see our Featured Guardian Angel.
2019
---
Dr. Bear's Closet Donations
During the month of April 2019, for a donation of $10 or more and we donated one (or more) of our plush toys to Dr. Bear's Closet a program run by the Children's National Health System in Washington, DC. We ended up donating all our stuffed toys due to the donations of Gail Roberts, Verla McFayden, Warren Griman, Jane Ramirez (in memory of Tasha), Pat Tetrault, Michael Behr, Cheryl Dawson (a second donation made in honor of Randee McQueen's birthday), Kristine Biagiotti-Bridges, Phyllis Wise, Amanda Gerke, Mary Ann Strock and the Bay Area Siberian Husky Club. Thanks to all of you for making this possible
Here are all the stuffed toys ready to go. We donated 15 Lazy Beans Huskies, 9 Wendy Wolves, 8 Huskies with red collars and 19 small huskies that are supposed to bark when squeezed.
When we dropped off the huskies there was no volunteer at the volunteer office so we didn't get a more official picture of the hand off. However, we did take a picture of the huskies in their bags.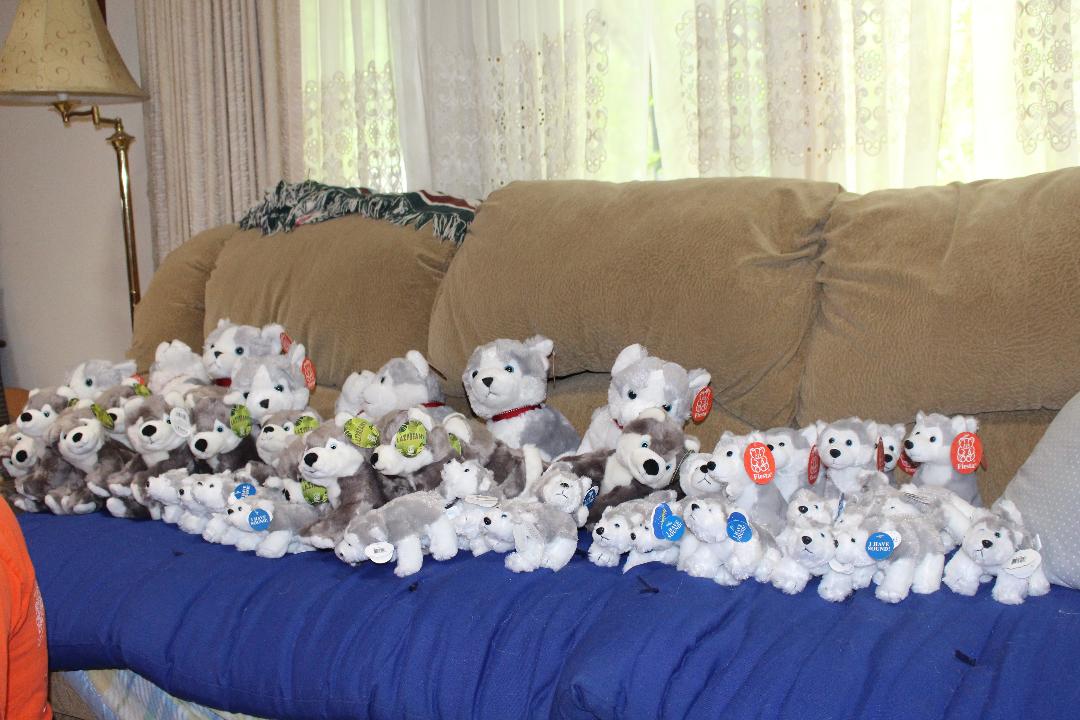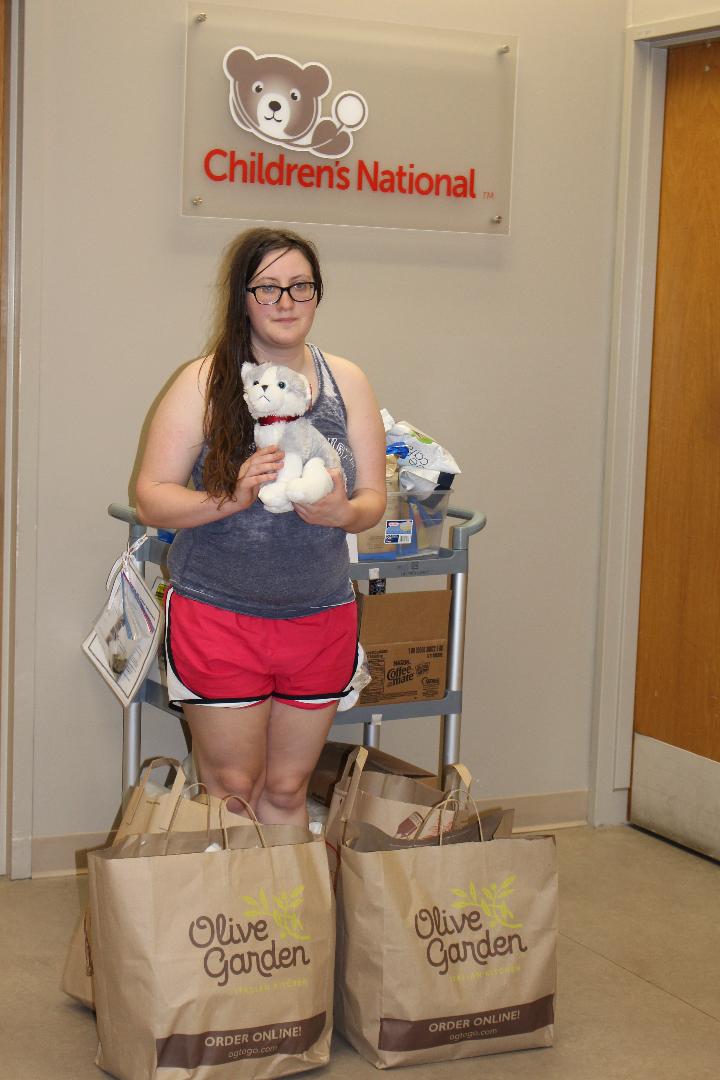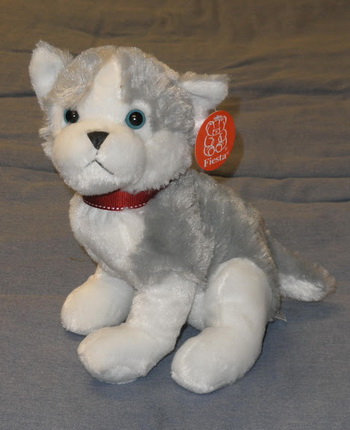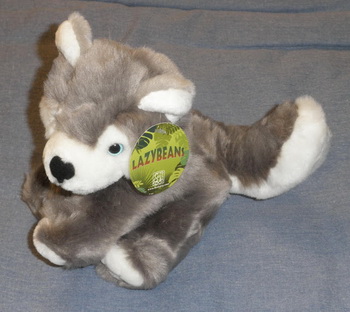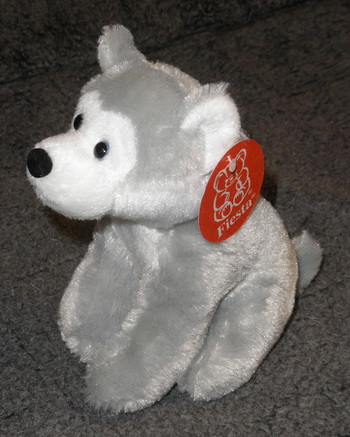 Team Leader - $100.00 - $499.00
Gail R. - In memory of Willow Run's Lena CDX RE TKN CGC TDI WPD, AKC Achiever Dog, 10/24/2004-2/15/2019.
"Companion Dog Excellent" defined her life. Cuddly and loving pet, willing worker at all the crazy games we did together, best hiking companion, never met a person she didn't like (shared her love as a Therapy Dog for 3 yrs), and loved other dogs (but had a sisterly rivalry with Whitney), hard-driving lead dog when we were sledding - she excelled at it all.

Lena came to me for foster care at the age of 6 months, uncontainable at her former home. She'd curl up under my chair and peek out at me with her lovely brown eyes. Of course she was staying! Bellaboo arrived a few months later, and they became BFFs - sisters of different mothers. Sled team mates, conspiring gopher hunting mates, running/playing buddies.

After we lost Bella at end of September, Lena began a slow but steady decline. She did alright until late December when I realized that she had every one of the symptoms of CCD (canine dementia). By then she was already getting acupuncture and cold laser for her old bones, but I also put her on new food and antioxidants to combat that.

She enjoyed playing with Pakuk and taking nice extended walks on the snowblown trails around the yard and neighborhood. Then she lost interest in meals, and eventually she didn't want any food at all. It was so hard, trying everything to get her eating again, hoping with each meal. But it wasn't to be, and she was quickly losing strength. She had given me everything, and it was my turn to listen to her needs. She was helped on her peaceful journey to join Bella, Teru, Kunik, and all her other buddies and teammates.
John and Tia Rempel, in memoriam - Gunvor and Jürg Schoch.
2018
---
20th Anniversary Campaign
It's our 20th anniversary this year so we're suggesting a donation of $20 (or a multiple of) to help us continue the work we've done in our first 20 years. So far we've received donations from
Gail R. - "2 donations, one for Lassen and one for Sage, 2 of my fosters through the years that SOS-SRF has helped."
Anonymouse donation "in recognition of Stoli Siberians. [Pat Tetrault] is the best!!!! We have 4 lovely dogs from her."
Bruno R.
Anonymous donation "in honor of the SOS officers and advocates ... for so many years of loving so hard with all their hearts to help so many dogs."
Annie's mom.
Maria K.
Snow Angel - $500.00 - $999.00
Dave and Ellen Kisker.
Dottye and Thom Pierce with Blaise, our 11 year old Red rescue, and Sasha, our 3 year old Isabella White rescue, both from Hickory Level Hound Rescue, Husky House.
Team Leader - $100.00 - $499.00
John and Tia Rempel, in memoriam - Gunvor and Jürg Schoch.
In memory of Gail Robert's beloved Bellaboo, who was a rescue dog who never needed any medical help until her old age. But she never met a dog she didn't like, so I think she would approve of helping other dogs with their own medical needs. Love her forever. Miss her forever. Always in my heart, my little Boo.
In memory of Dakota (see below, 2013) from J.R. Murdock.
John and Tia Rempel in Memoriam Gunvor, Jürg, Shreena, Taiga, Archita and Tindra.
Anonymous.
Husky Helper - $50.00 - $99.00
Marilyn R. - in honor of GG who belonged to Peggy Rusher.
Steven Rhoades.
The Mortimers.
A Christmas gift in honor of Kate Ritter and Kevin Brettnacher from Rebecca Ritter.
Team - Up to $50.00
Jennifer F.
Joanne A.
Darren T.
Pat Tetrault in memory of Gunvor Schoch's Sheebi, gone too soon at the age of 8.
2017
---
Siberian Saint - $1,000 or more
Randee McQueen
John and Cheryl Dawson, in memory of Polya.
Matching grant from Henry Huang's employer via the Exelon Foundation Matching Gifts Program in honor of Phantom (see 2016).
John and Cheryl Dawson "in honor of our other little red-headed girl. In memory of Ivana."
Snow Angel - $500.00 - $999.00
In memory of Isabella and Kaja, from Dottye and Thom Pierce.
Elizabeth Park.
Team Leader - $100.00 - $499.00
Tammie Variano, in memory of AAHI Sanctuary Sweetheart, Mollee.
Mollee came into AAHI's rescue program in September 15, 2015 in pretty rough condition and was to be fostered by Tammie through Heartworm treatment and then put up for adoption. Unfortunately, it was discovered she had extensive cancer and was not expected to live to Thanksgiving. Mollee proved the vets wrong and enjoyed Hallowe'en, Thanksgiving, Christmas and nearly all of 2016. She even earned her AAHI Hike medal. "She was affectionately referred to as "Holy Mollee" because she would vocally demand that we listen and hear what she had to say because she was going to say it even if we didn't want to hear it. She adored her walks and loved to wander and discover. She would stalk and pounce a leaf blowing across the street and was proud of her accomplishment - she was happy. She also loved her food. At meal time she would Cha-cha-cha her way to her bowl with the enthusiasm of a puppy. She knew no woes and recognized no maladies. She would come to see you after dinner with a silly smile on her face because she knew there just might be another little morsel that she could charm out of you. Pizza was a special favorite." On December 19, Mollee went to the Rainbow Bridge as the tumor on her leg, which was already seriously compromising her mobility, was splitting through her skin. "As Mollee was being fed cookies and chicken strips through smiles and tears, she just gobbled them up enjoying each and every one. She was happy and was enjoying the moment. As she took the last chicken strip, the meds were already starting to work and with tears in her eyes, Dr. Garvey said it didn't look like she was going to get that last chicken strip. A heartbeat later, Mollee gave a hardy chomp, chomp and the chicken strip was gone and so was she..."One last time, Mollee did things her way.
Tammie Variano: "In memory of all my Rainbow Bridge Angels: Sudsie, Wookie, All the White Stuff, Nakita, Seagram and Mollee. (Dalmatian, Malamute and 6 Huskies)
"Thank you so much for all of the hard work you do so the dogs do not have to feel the pain. You are so appreciated."
Elizabeth Park - in lieu of spring auction participation and for felted memory heart.
2 donations made "In memory of John and Tia Rempel' from Gunvor and Jürg Schoch.
In memory of Dakota (see below, 2013) from J.R. Murdock.
Clare Paskiet in honor of Tammie Variano - "for all she does for the dogs."
Kathryn Ritter.
Tammie, in lieu of spring auction participation.
Husky Helper - $50.00 - $99.00
Todd and Wendy Crim. They adopted "Lucia" from Northern Lights in 2016. She was the puppy with the broken jaw that SOS-SRF helped. "We are so grateful and love her so much! Here's a pic of her with our other rescue pup". I am sure if she could talk she would thank you, too:)"
Steve Rhoades - "It's all for the love of the breed." (2 donations)
Patricia Rust, "a Christmas present for her cousin Kate Ritter."
Becky Ritter - also as a Christmas present for Kate Ritter.
M. Lamb, in memory of Cheryl and John Dawson's Ivana.
Team - Up to $50.00
Jonathan and Marian Noel and Sarah, Adam and Sleigh Belle, in memory of Polya.
Margie Marshall and Diane Fisher - "Please use this donation to help Siberian huskies who need care. Thank you for all the good work you do!"
Pat Tetrault, in memory of Ivana Dawson.
K. Keiser. "Thanks. All my dogs are rescues. They are the best!"
Connie S., in lieu of spring auction participation.
2016
---
Siberian Saint - $1,000 or more
Dave and Ellen Kisker.
Henry Huang, whose "Siberian Husky buddy, Phantom, was the recipient of generous assistance from SOS-SRF in 2007 for his eye surgery to remove cataracts. Phantom is doing great and hasn't had any issues with his eyes. I wanted to give back as a sign of my appreciation and to help your organization assist other rescue Siberians in need."
Snow Angel - $500.00 - $999.00
In memory of Isabella and Kaja, from Dottye and Thom Pierce.
Team Leader - $100.00 - $499.00
Light My Collar, LLC. Their current Quality Control Team, Tessa (Border Collie)and Mollie (Australian Shepherd), ensure they donate money yearly to non-profit organizations that help Homeless and In-Need Animals.
Elizabeth Park, in lieu of spring auction participation.
A donation from Nancy W. made in honor of Randee McQueen, "a great supporter of your organization and friend to Siberian Huskies and ALL dogs."
The Variano family in memory of All the White Stuff (Cleo, Gia & Boo).
In memory of Dakota (see below, 2013) from J.R. Murdock.
A donation from Barb Armour to thank Barb Branham for her donation of artwork for Barb Armour's Ruby Specialty.
Husky Helper - $50.00 - $99.00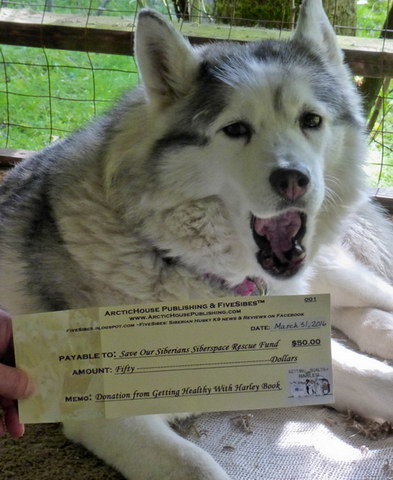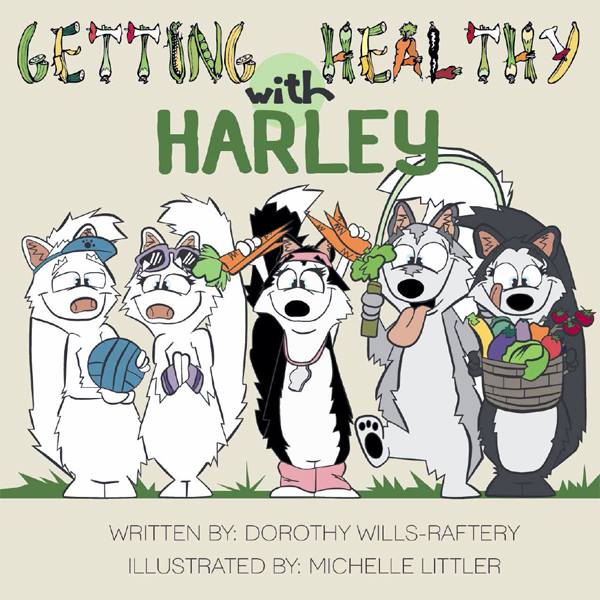 From Dorothy Wills-Rafferty who has generously donated a percentage of the proceeds from the sale of Getting Healthy with Harley (click to buy the book). Barb Branham's Jolie gives a "thank-woo" howl.
John and Tia Rempel in Memoriam. Gunvor, Jürg, Shreena, Sheebi, Taiga, Archita and Tindra.
M. Kirkpatrick as a thanks to SOS-SRF for their work.
Team - Up to $50.00
The Grahams, "in the name of Rober E. Nagel, Jr. who passed away in June of this year. He was a wonderful man - beautiful trumpet player, composer, and friend. He also loved Siberian Huskies and until he was in his 80's almost always had one."
Ron and Carole Miller in memory of Tamara Variano's Boo (a member of All the White Stuff).
2015
---
Bob Baker, who was our Rescue Coordinator since 2002, passed away on November 30, 2015. Bob was devoted to the Siberian Huskies in his life and to the breed in general, as well as being a valued member of our board. The following people have made donations in his memory:
Jason and Christy Samples. "In Loving Memory of Robert Baker."
Network of Writers and Artist. (Bob was on the Board for many years.)
Jackie Roach, Taysia Blue Rescue. "I was very saddened to hear of Bob's passing. ... The legacy of someone's work often goes unrealized. Without Tails of the Tundra, it's doubtful that there would be a Taysia Blue Rescue. Without the early help of SOS and others, we would not be as strong of an organization. We are now saving a life on average every 3 days so Bob's legacy continues in ways he maybe never realized."
Cheryl Dawson
Michael Goldberg
Ana Ramirez Photography
Ms. Diana Wilk
Shiri Shapira
Tatum and Bill Crotinger
Mitch and Pat Finney and Dave Ralston
Tamara Variano. "I am so very sorry for the loss of such a dedicated animal advocate, who served your wonderful organization, and the dogs he tried to help. Godspeed Bob and thank you for your service to this world. Hugs and Peaceful tidings, Tammie."
Kristine Biagiotti-Bridges
Pat Tetrault
Jeffrey Murdock
Hillsborough Senior Citizens' Club
Tails of the Tundra Siberian Husky Rescue Inc.
Connie Stockwell
Siberian Saint - $1,000 or more
Tamara Variano - in memory of All the White Stuff: Gia, Cleo and Boo. Appearing soon on the Guardian Angel page.
Snow Angel - $500.00 - $999.00
In memory of Tasca and Bear, from Dottye and Thom Pierce. (see below for picture)
Randee McQueen
Team Leader - $100.00 - $499.00
John and Tia Rempel, in memoriam.
The Cheesecake Factory-Polaris Fashion Place, Ohio
In lieu of spring auction participation.
In memory of Charles Robert Hankins, a good friend to Siberian Husky Rescue in Fort Worth and Dallas, Texas.
Julie Wolszczak, in memory of Tammie Variano's Boo.
Dawn Mayer, in memory of Tammie Variano's Boo.
Anonymous.
Husky Helper - $50.00 - $99.00
In memory of Phantom, he was so special and he will be missed.
In loving memory of Tammie Variano's Little Man, "Boo" - from the malamutes at IAMRA.
Team - Up to $50.00
In honor of Becca on her 11th birthday and her 11 month old Siberian Husky.
In Memory of Chena. (Fraser, CO)
2014
---
Siberian Saint - $1,000 or more
Anonymous donor (Jimmy's Angel)
Snow Angel - $500.00 - $999.00
In memory of Tasca and Bear, from Dottye and Thom Pierce. (see below for picture)
Team Leader - $100.00 - $499.00
Elizabeth Park, in lieu of auction participation.
In memory of Dakota (see below, 2013) from J.R. Murdock.
In memory of John and Tia Rempel.
Lynne Gregory in honor of Ronnie and Jimmy: Husky lovers and rescuers, amazing neighbors, and just all-around good people!
Barb Armour asked our resident artist, Barbara Branham, to create designs for the note cards their Siberian Husky club will be using at their 40th anniversary specialty in April 2015. In return, Barb and her husband, John, made a donation to SOS-SRF. The donation is also made in the name of John's aunt Verona "Aunt Bornie" Thompson who passed last February and who dearly loved Barb and John's Siberian Huskies.
Steven Rhoads "for love of the breed"
Team - Up to $50.00
Jim and Michele in honour of John Dawson's 70th birthday
Pat Kral from Illinois Alaskan Malamute Rescue Association (IAMRA) in lieu of the auction and to help "our friends at SOS-SRF".
From Phoenix and Skye, Adoptees from IAMRA, in lieu of participation in the fall auction.
2013
---
Snow Angel - $500.00 - $999.00
In memory of Tasca and Bear, from Dottye and Thom Pierce.

Anonymous donor
Team Leader - $100.00 - $499.00
"Please accept this donation in memory of Dakota, who departed under the full Wolf Moon of January this year. We often told her about the importance of helping other poor Huskies that are hurt or sick, who have no home and nobody to love them. We know that she agreed, for she "never met a dog she didn't like" (apologies to Will Rogers) and wanted to play with all, even the grouchy ones! She was born in Texas and remained our best friend and constant companion through all our adventures, in the forested hills of Georgia, across the rocky deserts and snowy mountains of Nevada, then once again amidst the piney woods and on the sandy beaches of Texas where she spent her final days. We had some bad times, but mostly they were good - so very good - and she will live in our hearts 'til we are all united again." J. R. Murdock

Click here to read the requiem written for Dakota by her owner.

Elizabeth Park - in lieu of spring and fall auction participation.
Mary Atkinson - Guardian Angel bidder, spring 2013 - in memory of Gia.
Dawn Melikian (and matching contribution from Amgen) - this donation was directed to the Julie Moreland Heart Fund.
Anonymous - in memoriam.
Jennifer Craig
Anonymous (ED)
Husky Helper - $50.00 - $99.00
Catherine Anderson - In honor of Bill Elkins, life-long husky lover whose 84th birthday is in December.
Team - Up to $50.00
Joanne D. - in lieu of spring auction participation.
L. Hayden
Pat Tetrault - In memory of the Kisker's Isis.
Diane Carber
Lee Desjardins - In memory of Jane and Carlos Ramirez's Tasha.
Ali Weinstein - In memory of Amy Berlin's Sydney.
A holiday donation in honor of Heather Walls and Dan Rehak from Paul and Anita Darnell.
Ron and Judy Henson - "In memory of Julie Moreland".
2012
---
Siberian Saint - $1,000 or more
Rich Moreland in memory of his wife Julie, a long-time owner and lover of Siberian Husky dogs, and a tremendous supporter of Rescue. This donation has been used to set up the Julie L. Moreland Heart Fund, a fund to be used to assist in paying for the cost of heartworm treatment. Donations to SOS-SRF may be directed to this fund. Click here to read more and make a donation to this Fund.
Internation Siberian Husky Club
In August, the ISHC disbanded and donated its remaining funds to several 501(c)3 rescue groups. SOS-SRF was honoured to be one of these groups while at the same time regretting the loss of the ISHC. For years, the ISHC has worked diligently to preserve the heritage of the Siberian Husky and will be greatly missed. In November, a further donation was received when it was learned that one of the other recipients had also folded.
Ursula Rempel, in memory of Tia, Queen of the Universe, Butter Queen and sweet girl. (see picture on the right)
Dave and Ellen Kisker
Cheryl and John Dawson, in memory of Tula, CGC, TDIA
Shortly after her 14th birthday, this bi-eyed beauty left for North of the Rainbow bridge to wait for John and Cheryl. She had been suffering from a nasal tumour and her quality of life was such that Cheryl and John knew it was her time. As Cheryl wrote, "When as determined and cussedly independent a little bitch as Tula had always been is no longer interested in her world, you know the end is near." One of her nicknames was the "Hall Monitor" and she kept the rest of the Riot Squad in line and made sure the fosters knew who was boss. While she saw it as her mission to keep other dogs in line, she was an excellent therapy dog and gave much love to many people."

Tula was the puppy of one of the dogs from the Kansas Puppymill rescue, one of the catalysts for setting up the SOS-SRF. She was featured on our 10th Anniversary Logo.
Snow Angel - $500.00 - $999.00
Team Leader - $100.00 - $499.00
Elizabeth Park - in lieu of spring auction participation
Peninsula Siberian Husky Activity Group (PSHAG) Brandee K. of the PSHAG sent us the following email in March:
"Hello Team SOS-SRF!
I am following up with you in regards to my dog Halo whom you so graciously donated towards her heartworm treatment back in April 2011. I am happy to announce that she is 100% disease free (including adult worms and microfalaria), healthy, and of course happy!

In the last year I started a husky group in my local area. This group is called Peninsula Siberian Husky Activity Group a.k.a PSHAG. We meet up once a month and started in July 11' with around 5-8 huskies and we have now grown to around 40 huskies (which is a lot of growth in 8 months)! We had a meet up this month on the 10th which marked to-the-date of Halo's rescue. To celebrate the one year mark I decided to host a fundraiser for you SOS-SRF to give back and help another husky(ies) in need. Our group so graciously donated a combined total of $420.00! ...

Thank you again for all that you do to make an impact for our beautiful Sibs and please accept all the love and donations from our wonderful members of PSHAG!"

You can read Halo's story by clicking here.

We thank Brandee and the members of PSHAG for thinking of the other Siberian Huskies in need on Halo's first anniversary in her forever home.
Brianne Petrone made Siberian Husky Rescue her Bat Mitzvah project and raised over $400. She made braided yarn bracelets and offered them in exchange for donations to SOS-SRF. Brianne has a 4 year old Siberian Husky named Ambre.
Dawn Melikian-Neff. Her employer(Amgen) will match her donation. Dawn also made a Christmas donation which will also be matched.
2 Anonymous donors.
Husky Helper - $50.00 - $99.00
From Boris in memory of his sister Natasha who passed at the age of 15 years, 7 months on November 29, 2012. He and the rest of his family miss her very much.
Team - up to $50.00
Katie Fleming
The BC Siberian Husky Club & Rescue
The Smith family, "In memory of Tuckerman. He loved to hike and play in the snow. He was loved by so many and will be missed dearly." (See photo on the right.)
In memory of Sabrina, a beautiful Siberian Husky who passed away on June 6.
Happy Tails Books - SOS-SRF is a rescue program partner and receives donations from the sales of their books. Visit Happy Tails Books to learn more about them.
In memory of "Winkie", beloved Siberian of Barry and Carol Sachs.
Carol McFadden, owner of Feistywoman Designs (http://www.etsy.com/shop/feistywomandesigns). Carol likes to donate 10% of her sales of her fibres (usually blended and carded in her studio) to a Siberian Husky rescue organization and SOS-SRF is a new recipient organization. Her friend Babeth Raible donates Siberian Husky undercoat to blend with her wool.
2011
---
Siberian Saint - $1,000 or more
Dave and Ellen Kisker
One anonymous donor!
Snow Angel - $500.00 - $999.00
Team Leader - $100.00 - $499.00
Elizabeth Park and Maya - in lieu of fall auction participation and for items made for her by Cheryl Dawson
Thom and Dottye Pierce
Jeffrey and Sandra
Aonymous donor
Husky Helper - $50.00 - $99.00
Team - up to $50.00
In memory of Kodiak of The Thundering Herd - From his pals in PA, Khyra and Phyll
2010
---
From Jack Causa in honor of Kiko for medical care for other huskies: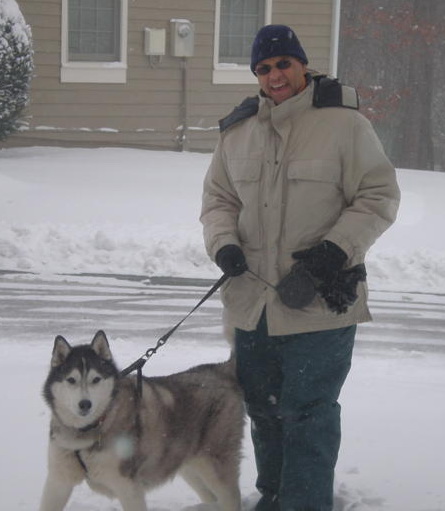 Jack lost his best friend last year (to diabetes) and still grieves for "Kiki Beak". Kiko has given Jack years of love and devotion, not to mention fun and lots of laughter. Kiko could be found either paddling around the swimming pool on his raft, or sticking his nose deep in the snow, or up to his rear end digging in the backyard burying his precious bones and running around in circles when Dad was getting ready to feed him. He could be seen at the window waiting for his Dad to come home. Kiko had an amazing life. He loved to "talk" and was Always the center of attention whenever he was out and about. He is missed terribly and in his honor, this holiday season, Jack is giving the gift of life to help other Huskies receive the medicine they need. You are missed Kiko and not a day goes by that your Dad doesn't think of you and wish you were still here. Kiko is in the sky now chasing the stars and running free to his hearts content.
---
In Loving Memory of John Sukys, 1955-2010
From his friends and colleagues at the National Oceanic and Atmospheric Administration (NOAA).
John Sukys fell in love with Siberian Huskies about 15 years ago when he met a close friend's dog, Moonshine (see left middle). "Moonsie", 17 years old this month ( August 2010) personifies the loving, loyal, & intelligent breed. She lives up to her name as well, as you always have to keep a watchful eye on your beverage when she is around! John and Moonshine totally adored each other. After John bought a house with a big fenced yard that could contain a Husky (you know what escape artists these crafty creatures can be!), he decided it was high time to find a Husky of his own. In 2007, when he learned of a desperate situation in which numerous Huskies were in need of a good home with plenty of nurturance, John came to the rescue and found "Magic", a 3-4 year old Wooly Coat Siberian (see left top). It took a while for the adoption to come to fruition due to the circumstances in which the dogs were obtained, but John persevered. Just like the steadfast breed, John went to the animal shelter day after day, for two months, to walk his new friend and hopeful full time companion. As their bond cultivated, John recognized Magic's skepticism in human nature. The trauma Magic had experienced with his former master had led to an embedded distrust in people. Once John saw that the distrust was not easing, John strategically adjusted his approach to create a new "pack" setting to included canine assurance. John knew it would take "dog talk" to assure Magic that people can be loving and trustworthy so he began to include Moonshine on the SPCA visits in order to help initiate Magic's trust in humans. Magic watched Moonshine's calm demeanor and faith in people and he eventually "took her bark (word) for it". John instinctually knew the only way to get to Magic's heart was through Moonshine's and, sure enough, John and Magic eventually became best of friends. Long standing health problems resulted in Magic's death 3 years later, but there is no doubt that he knew profound kindness & love from his master & friend.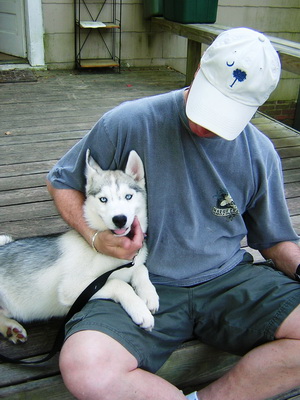 After experiencing Husky ownership, John was hooked. He longed to raise a puppy, so circumstances prevailed that allowed "Max", a mischievous little silver coated rascal with boundless energy and an inquisitive personality, to come into his life. Max was the new sparkle in John's eyes. They were always together and remained great pals until John's untimely death in July 2010. John's generous spirit, caring nature, & wonderful sense of humor will be remembered by all who knew him: human & canine alike! We all will miss him greatly but rest in knowing he and Magic are walking the shores of heaven—together again. (September 2010 - prepared by Jenni Garrott, owner of Moonshine)
---
"A man's dog stands by him in prosperity and poverty, in health and sickness. He will sleep on the cold ground, where the wintry winds blow, and the snow drives fiercely, if only he can be near his master's side. He will kiss the hand that has no food to offer; he will lick the wounds and sores that come in encounter with the roughness of the world. He guards the sleep of his pauper master as if he were a prince. When all other friends desert, he remains. When riches take wings and reputation falls to pieces, he is as constant in his love as the sun in its journey through the heavens.
"And when the last scene of all comes, and death takes the master in its embrace, and his body is laid away in the cold ground, no matter if all other friends pursue their way, there by his graveside will the noble dog be found, his head between his paws, his eyes sad but open in alert watchfulness, faithful and true even to death." - George Graham Vest
---
Thanks to the following people who responded to our appeal for funds in fall 2010:
Mary and her boys Remy and Doolin
Mary in Oregon
Mary Mitchell
Thom and Dottye Pierce, with Tasca and Bear
John and Barb Armour and Sundog Siberians
Heather Walls and rescues Denali and Rubi
Val De Witt (Furry Folk Farm) held an eBay auction and contributed some of the proceeds.
Kathy Frankland
Elizabeth Park (in lieu of the fall auction)