Previous Guardian Angels
Nakita Moore - our Guardian Angel from July 2013 to December 2013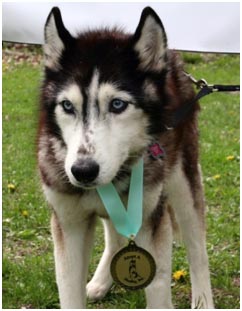 Nakita Moore
(Always, Daddy's little girl)
4/27/2000 - 6/15/2013
The prettiest eyes that any dog had, reflected such love, when you looked at 'Your Dad.'
Your name means "Unconquered," dear little Nakita. Your Spirit was your strength & it reflected in your eyes.
You are North of the Rainbow Bridge ... "the littlest Ninja."
You were such a little blessing & made such a difference, in the lives you touched.
If love could have saved you, Nakita, you would have lived forever. Your Spirit now resides always, in our hearts.
You are reunited with your little pack ... Godspeed pretty girl.
You are Loved.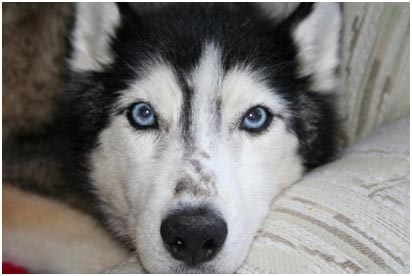 A special "thank you" to Kristen Brand DVM, & the entire Richmond Veterinary Clinic, www.rvetclinic.com for their kind compassion in Nakita's last months. Big hugs to Nakita's gentle groomer, Amanda, & energy healer, Clare Ann Paskiet, HTACP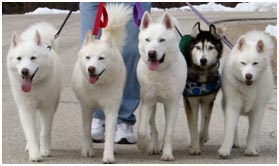 Donations to Save Our Siberians - Siberspace Rescue Fund have been made in Nakita's Memory by:
Her Hospice team, tammie, All the White Stuff & family
Her adopted "Grandpa" Frank Powers
Mary Atkinson (Guardian Angel bidder, Spring auction 2013)
In loving memory of Nakita Moore, from all the malamutes at IAMRA.
Tammie Variano in memory of Gia - our Guardian Angel from January 2012 to June 2013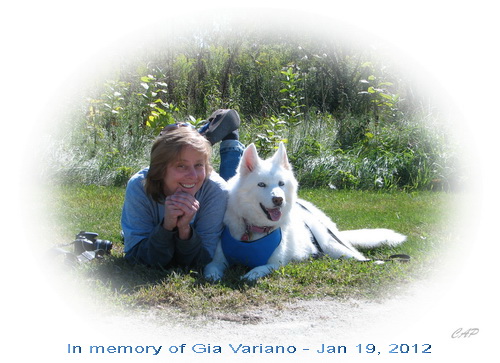 Julie Wolszczak and Dawn Mayer of Northern Lights Sled Dog Rescue, Inc. wanted to remember their friend Tammie Variano's Gia and made donations in her memory. In addition, donations have been made by:
Her friends at IAMRA (Illinois Alaskan Malamute Rescue Association)
Nancy Seils
Rae Powell, D.C. (Chirocare for Animals) - Gia's chiropractor
Chester, Mary and Marylin Powers
Gia's Dear Grandpa, Frank Powers ... (Gia is in the loving arms of her Grandma Dottie now)
The Variano family: Perry, Tammie, Cleo and Boo Variano, and IAMRA foster, Benny too.
Ron and Carole Miller and Niki (from NLSDR)
Steve, Sharon, Brandon and Makaio Tremaglio
George and Diana Beaton
As your kind eyes dimmed, on our last day, there was one more miracle for which I'd pray.
Your tender kiss for me to know, it was indeed your time to go.
You took a loving hug, which I held tight as I prayed for peace with all my might.
The world contains many, but, real friends, most times are few. I know that loving friendship was what I was blessed with you.
Our little pack is broken, and nothing seems the same, but every night, "Dear Gia" we will all whisper your name.
The sands of time run much too quick and it was your time to leave. Now as you rest at Heaven's gate, I will take my time to grieve.
You were a blessed creature, here, a part of God's great plans; I hope that I have honored Him before I placed you in His Hands.

Godspeed Gia, Pretty Girl ... mom