2006 (28 dogs)
Here are the dogs we helped in 2006. We were pleased to make contributions towards their medical expenses to ensure happy and healthy lives for them all.

Independent-
Bear
- Georgia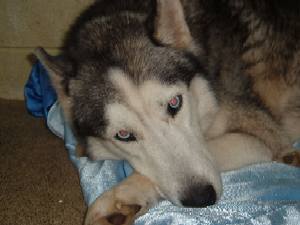 Shari Baillargeon was the good samaritan who pulled Bear, a 2-year old grey and white male Siberian with blue eyes, from Murray County Animal Control. Shari told us that Bear looked as if he had been bitten on the back by a large animal. The wound was huge and gaping, and required extensive surgery to repair. Despite the pain he was in, Bear appreciated Shari's attempts to comfort him. She writes that "he sat with his head on my lap and allowed me to stroke his head. He is a beautiful, sweet young boy."
Bear's story captured the hearts of many many people on Sibernet-L and donations poured in for him. SOS-SRF promised to match donation funds up to $400 and as a result, over $1000.00 has been donated for Bear.
He's not out of the woods yet. He has developed a severe infection and will be in hospital a few more days. And poor Bear has also tested positive for heartworms. He'll begin that treatment when he's stronger. Shari will nurse him back to health and will be looking for a very special forever home for this loving boy. (December 2006)
Updates and more pictures: Penny Blankenship has been posting Bear updates on her Gimpydogs site.

Animal Protection Society of Orange County -
Cody and Feather
- North Carolina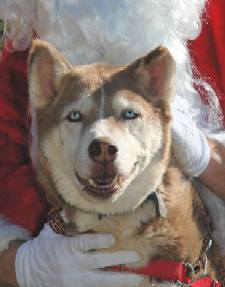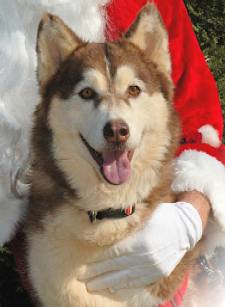 Cody is a 7-year old red and white male Siberian with blue eyes. Feather is a 4-year old red and white female Siberian with brown eyes. Both have heartworms and are currently undergoing treatment. (December 2006)

NW Ohio Siberian Husky Club -
Tyrone, Katie, Katie 2, Mr. Cuddles, Zoey, Mary, Yukon and Candy
- Ohio
These eight young Siberians were part of a seizure (of 19 sled dogs) by the Morrow County Animal Control. All but two of the 19 were heartworm positive and all had other health issues as well. They were all emaciated. Seventeen dogs were in danger of euthanization because the Morrow County Shelter was full and could only accommodate two of them. Nancy Wolfe and her small rescue team stepped in to take responsibility for the others, finding them foster homes, boarding facilities, and medical treatment.
Pictured below are Katie, Tyrone, Mary, Zoey, Cuddles and Katie 2. We don't have picture of the other two.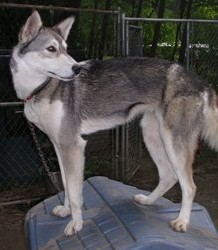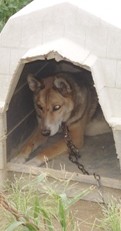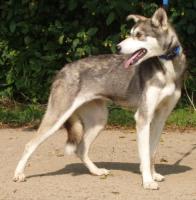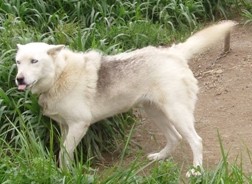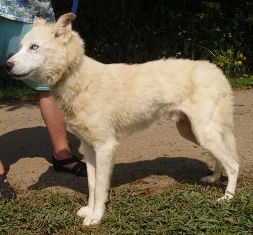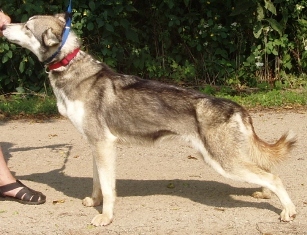 The two veterinarians (Dr. Mark Harris and Dr. Patrick Dougherty) offered substantial discounts for both medical and boarding costs. With Nancy's help, the kindness and generosity of the veterinarians, a few donations, and our contribution, eight young Siberians will soon be looking for forever homes. (December 2006)

Independent -
Sienna
- Idaho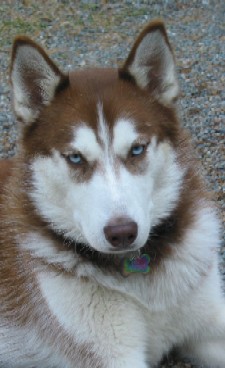 Sienna is a beautiful red and white 10-month old girl with blue eyes. Tori Howe took her in as a rescue, but Sienna had an infected foot. Fortunately, it wasn't serious. We were able to help and Sienna (formerly Hoku) has found her forever home. (December 2006)

Independent Rescue associated with Close to Home Animal Advocates -
Wicca
- Michigan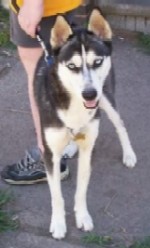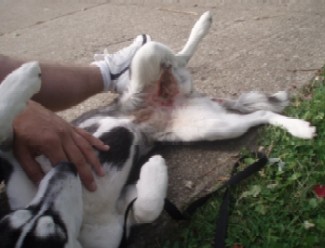 This eight-month old pup was adopted last August, but escaped a month later and was hit by a car. Her new parents were unable to pay for her medical care so Wicca was returned to the rescue. She has undergone several expensive surgeries for her injuries. Wicca is well on the way to recovery and is looking forward to her forever family. (November 2006)

Harnessed to Hope Northern Breed Rescue
-
Quincy and Riley
- Pennsylvania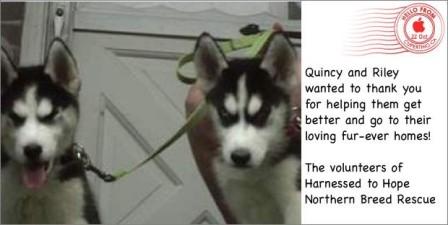 These two black and white cuties (believed to be brother and sister) were pulled from a Pennsylvania shelter at eight weeks old and taken into foster care. They then underwent veterinarian checkups and because Quincy presented with diarrhoea and other symptoms, the vet suspected Parvo. Quincy was moved to an emergency clinic for specialized treatment and critical care. Within a few days, Riley began exhibiting similar symptoms of coughing, sneezing, and vomiting. While Riley's case was less severe (pneumonia), both pups needed immediate emergency care.
Quincy and Riley recovered completely and have since been adopted. SOS-SRF was pleased to help these pups realize a healthy future. (October 2006)

Siberian Husky Assist
-
Aries
- Virginia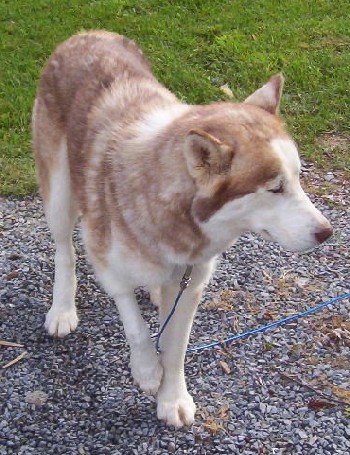 Aries is a 4-5 year old red and white female, pulled from a shelter, and found to be limping due to an old injury: she had been shot! There were no open wounds, but because she was limping, X-rays were done and they revealed bullet fragments rubbing against a bone. Aries underwent surgery to remove these fragments, and while she may experience arthritic conditions in her leg in the next few years, her prognosis is good. And there are medications available to alleviate any future pain.
SOS-SRF was pleased to help this girl realize a happier life. (September 2006)
Update: Aries has been adopted! Melanie (from Siberian Husky Assist) says "she is a totally indoor girl (which she loves) and then goes for walks and is on a tie-out for very short periods. Her surgery went so well she can clear a 4-foot fence! Her new family has three children and she has a 4-year old husky playmate named Zeus. They adore each other. A very happy ending! (October 2006)

Independent -
Atka
- North Carolina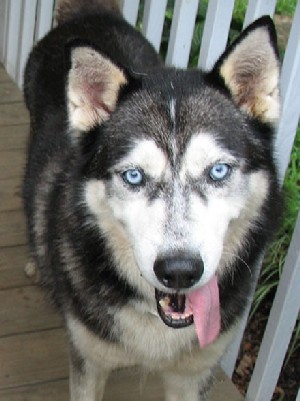 Atka is a very lucky boy! This 4-year-old black and white Siberian found a good samaritan in Geoff Ferdon who saved Atka from euthanasia. Atka was a lost dog found by a friend of a friend of Geoff. Geoff took him in, but realized that Atka had hip problems. The vet confirmed that Atka had a hip displacement and would need a femoral head ostectomy. As well, poor Atka had teeth problems which necessitated extractions.
Atka's surgeries were successfully completed and he's ready for adoption. We were pleased to be able to assist this good samaritan and wish Atka a long and happy life! (August/September 2006)

M.U.S.H.R. Minnesota's Unwanted Siberian Husky Rescue
-
Betty Jane
- Minnesota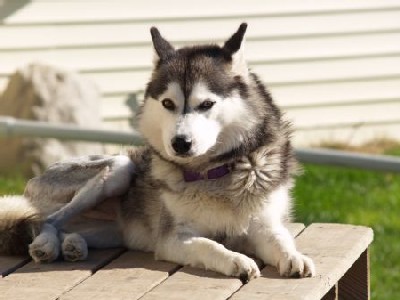 Betty Jane was an emergency case. This two-year old black and white girl was in imminent danger of euthanization and we worked hard to make sure she would be saved. Betty Jane was found as a stray suffering from luxating patellas on both rear legs. Jessica Kuhlman was instrumental in securing a happy ending for Betty Jane. The prognosis for the surgeries was excellent. (July 2006)
Update (October 2006): Betty Jane is currently in foster care and her foster mom sent us this recent update: "Her personality is delightful. She is a bright-eyed girl with lots of energy. At meal times we call her our 'Tiny Dancer' because she dances up and down for her dinner. Her legs are healing well and she is able to play with our other huskies. She is a gentle girl and likes cats. We have learned to really love her beautiful face. This dog is a real sweetheart considering all she has been through. Our hearts just leap with joy when we see her run with good, strong back legs. She is, however, a sock thief and periodically grabs a sock and destroys it!"
We were very pleased to contribute funding for beautiful Betty Jane.

Indy Homes for Huskies
-
Eko
- Indiana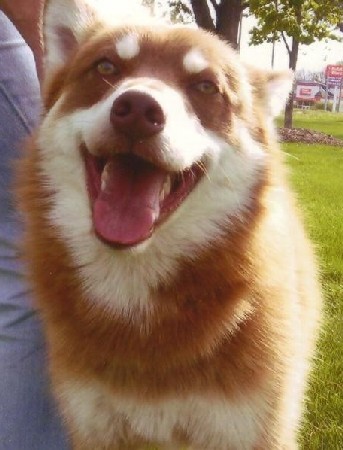 Eko is a young red and white Siberian who was rescued from a shelter in Indiana. His foster mother describes him as "a little love bug. He gives great hugs and kisses. He likes to talk and has an opinion about everything." Eko was diagnosed with 26 ticks, whipworms, and tapeworms. And he tested positive for heartworms.
He is a strong, young boy and his prognosis is excellent. We were pleased to help with Eko's treatment. (July 2006)

Northern California Sled Dog Rescue (Norsled)
-
Polo
- California
Poor Polo! NORSLED rescued this handsome young 2-year old a few months ago. He was emaciated. As Kristin wrote, "Lost and forgotten by his family, he had not lost his spirit or his quick mind. Looking into his amber eyes and petting his caramel and white coat, it was easy to see he was a beautiful dog that had recently had some hard days. He was named "Polo," Hawaiian for "Chubby," by an optimistic rescuer."
Alas, Polo decided to do a Siberian "walkabout." He escaped from an adoption event and ended up on a freeway where he was struck by a car. The result: a broken pelvis. NORSLED had faith in this beautiful dog. He had his surgery and is now recuperating, gaining weight, and taking short walks. His prognosis for a full recovery is good, although it may take many months.
In the meantime, he is in a happy foster home, healing, and gaining weight! We were pleased to help Polo on his road to a happy and healthy life. (June 2006)

Harnessed to Hope Northern Breed Rescue
-
Sasha
- Pennsylvania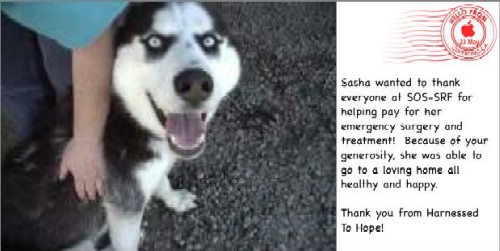 Sasha is a young 1-year old black and white girl with blues eyes. She was recently spayed and her foster parents noticed that the incision was irritated and leaking. Despite her E-collar, Sasha had managed to eat a large quantity of gauze around it causing a bowel obstruction which necessitated emergency surgery. Sigh. Oh Sasha! They were trying to help you!
But Sasha's prognosis was excellent and she has found her forever home. We were pleased to help this new rescue with a significant contribution to Sasha's emergency surgery.(May 2006)

Indy Homes for Huskies
-
Felicia
- Indiana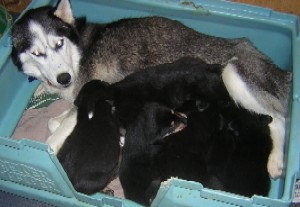 This pretty young girl was infested with parasites and worms as she was weaning her puppies. Indy Homes for Huskies managed to treat those, but then Felicia was found to be heartworm positive. She is young and strong and her prognosis for recovery is excellent. Julie Bates describes Felicia as "beautiful, very sweet and adoptable. All of her puppies found wonderful homes."
We were happy to pay for Felicia's heartworm treatment and hope she finds her forever family soon. (May 2006)

Siberian Husky Assist
-
Ty
- Virginia
Ty is a two-year old red/white/grey male Siberian with blue eyes. He was picked up as a stray and rescued from the shelter just as his time was running out. Ty was diagnosed with heartworms, but in the early stages. His prognosis for a full recovery is excellent. Click here for more on Ty.
SOS-SRF was happy to pay for Ty's treatment. (May 2006)

Update
-
Willow
- Indiana
Alas, not all "our" dogs live to a ripe old age. Steve and Lori adopted Willow from Northern Lights Sled Dog Rescue. SOS-SRF had helped with heartworm treatment for her. She was a beautiful girl with other complications as well and very much loved. Steve wrote in February that they had had to put Willow to rest. In spite of the excellent medical care and a loving home, Willow's health never really recovered after her heartworm treatment. Steve writes, "Willow's condition began to rapidly deteriorate about a month ago and by last week, she would no longer eat on her own and could barely walk. In spite of everything her vet tried, we could not bring her back around again. He suspected that cancer was the culprit and his suspicions turned out to be correct. He took a special interest in Willow, phoning us daily to check on her condition and offering what he could.
"Willow had a good year and 1/2 with us; I wish it could have been longer. It was a pleasure to have her with us, but we had to let go so that she would not suffer anymore. She had suffered enough in her past life already. As disappointing as that is, I know that she would have never experienced being loved and cared for if she hadn't been given a chance by this group. She will forever live in our hearts and memories." (February 2006)

Indy Homes for Huskies
-
Priscilla
- Indiana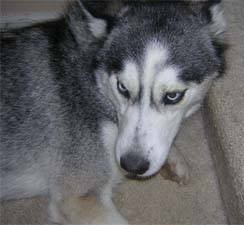 Priscilla is a small, young, black and white Siberian with blue eyes. She was the victim of a "shooting incident." Julie Bates of IHH managed to pull her and her two pups from an animal shelter. Priscilla tested positive for heartworms. Julie says she is "absolutely darling and very adoptable. She is very strong and is expected to have a full recovery." (March 2006)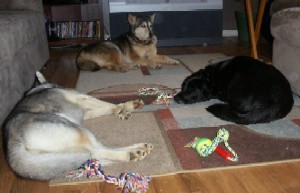 Update: Priscilla now has 2 sisters: an old Husky (Sasha) and an energetic Lab (Maggie). Her new "mother" tells us that "Priscilla is adjusting well. Maggie and Priscilla are really great playmates and Sasha is accepting Priscilla without any commotion, which is a good thing!" (April 2006)

Northern Lights Sled Dog Rescue
-
Lina
- Indiana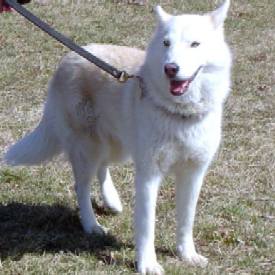 This lovely, happy little girl is only a year and a half old, but has touched the hearts of many. What a sweetie! She was diagnosed with heartworms and has been successfully treated. Julie Hoffmann's rescue is a small one--and like many--is dependent on donations and goodwill. Julie has an awesome network of wonderful people ready to help at a moment's notice. Lina is in good care and will have no difficulty in finding her forever home. (March 2006)

Closer to Home Animal Advocates
-
Yakone
- Michigan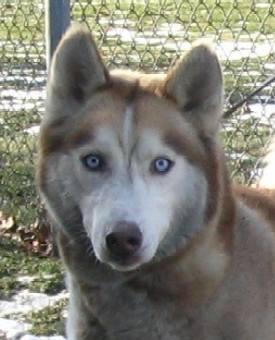 Yakone is a handsome red and white 2-year old with blue eyes. Mindy Storen rescued him from an Ohio animal shelter in January. To her dismay, Mindy discovered that Yakone was heartworm positive (she has seven fosters, one of whom was also undergoing heartworm treatment). We were pleased to help Mindy with expenses for Yakone's treatment.
Then complications arose from his heartworm treatment. Yakone needed immediate emergency care. "He was dehydrated, had stopped eating, and had black, tarry stools resulting from digested blood." He was dying.
Fortunately, Yakone has recovered completely and should be ready soon to meet his forever family. We are not called SOS for nothing! We were very pleased to assist Mindy with this emergency funding.(February/March 2006)

Jack Russell Rescue, North Carolina -
No Name
- North Carolina
This young boy is a black and white Siberian with blue eyes whose life was saved by two caring people: Betty Broughton and Marina Sauer. Betty found this handsome boy in a ditch. He had been shot in his hind legs. Marina, whose rescue normally deals only with JRTs, made an exception to take him in because of this dog's special circumstances. In addition to his shotgun wounds, this young boy was also diagnosed with heartworms. He is recovering from both his wounds and from the heartworms. And good news for him: he has been adopted by Betty!
SOS-SRF was pleased to be able to help "No Name." And we hope that Betty finds an appropriate and deserving name for this brave dog. (February 2006)

Independent -
Nike
- Pennsylvania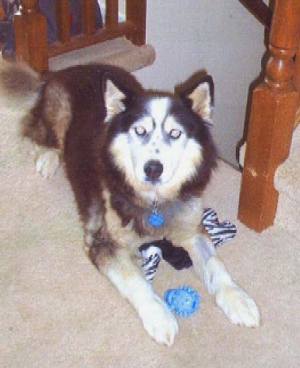 Andrea and Ben found Nike as a stray wearing a choke-chain but no identification. He is black and white with blue eyes and was approximately 8 years old. They noticed that he had a rather large tumor on his head and neck, and took him to their local shelter to see if they could perform surgery. The shelter had no facilities to do so, so Andrea and her husband took him to their own vet, who performed the surgery, which they paid for themselves. They have since adopted Nike - another example of a Siberian Husky charmer not leaving his rescuers!
We wish Nike many happy years in his new forever home. (January 2006)