2014 (23 dogs)
Here are the dogs we have helped in 2014. We were pleased to make contributions towards their medical expenses to ensure happy and healthy lives for them all.

Hairy Houdini Siberian Husky Rescue
-
Danali
- Michigan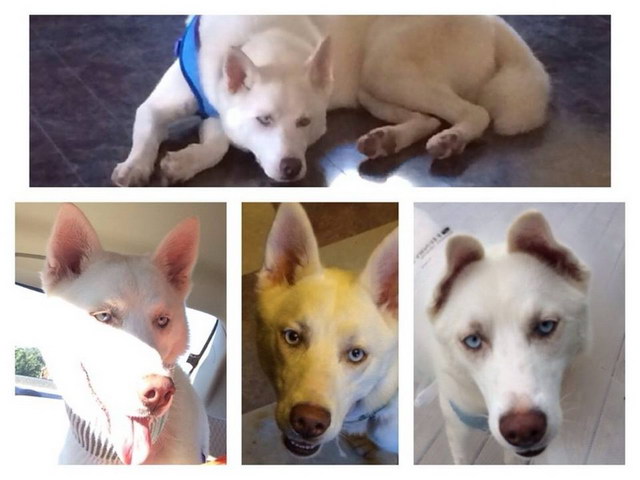 Danali is a ten month old white Siberian who was surrendered by her owners who wanted to have her euthanized due to her medical problems. Cherie's rescue noticed that she was having breathing difficulties and had her checked. Danali was diagnosed with congenital laryngeal paralysis.
She had corrective surgery and her prognosis is excellent for a normal life. It was heartening to see Cherie's video of Danali dashing around the yard the way a husky should!
We were happy to provide funds to help Danali and hope she finds her forever home soon. (November 2014)

Closer to Home Animal Advocates
-
Izzy
- Michigan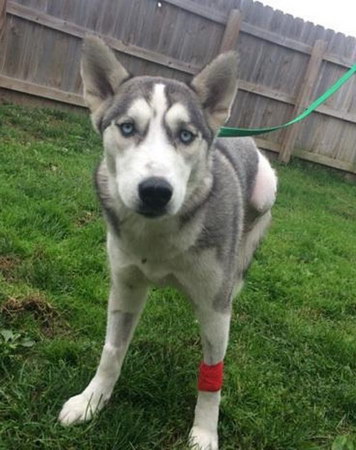 Izzy is only seven months old and was taken to a veterinarian after being hit by a car. Her owners asked to have her euthanized but the vet refused and contacted Mindy's rescue who agreed to take her.
Izzy's vet thought the fracture was treatable and the surgery appeared to be successful, but the pin migrated and amputation was the only alternative. She is doing well and adjusting nicely to life on three legs. Izzy will be available for adoption soon.
We were happy to make a substantial contribution towards Izzy's medical expenses. (November 2014)

Project Pearl
-
Vanessa
- North Carolina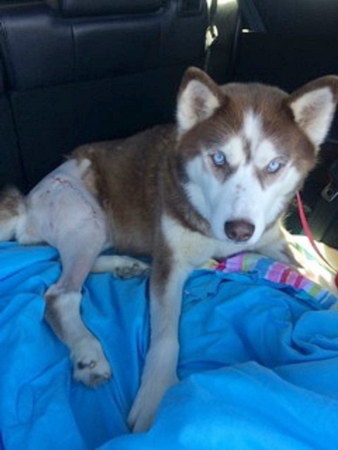 Vanessa is a six year old red and white girl who was rescued from a shelter. She was a victim of a cruelty case seizure and may have been hit by a car: her leg was broken. At first it seemed that amputation was inevitable, however Vanessa's veterinarian was able to insert four screws to secure the fracture.
It was expensive surgery but successful. Once Vanessa has recuperated she will be available for adoption. We were pleased to provide funds to help her. (November 2014)
Update: Vanessa's recovery took a few months longer than anticipated. She was adopted on February 16, 2015 to a lovely retired couple that had two Husky's (both passed away last year; one to cancer and one to old age). They fell instantly in love with Vanessa! They live on a fully fenced farm with 3 other dogs, 1 cat and 33 alpacas! Vanessa is doing great in her new home and is loved by all.

Sophie's Circle
-
Zorro
- Florida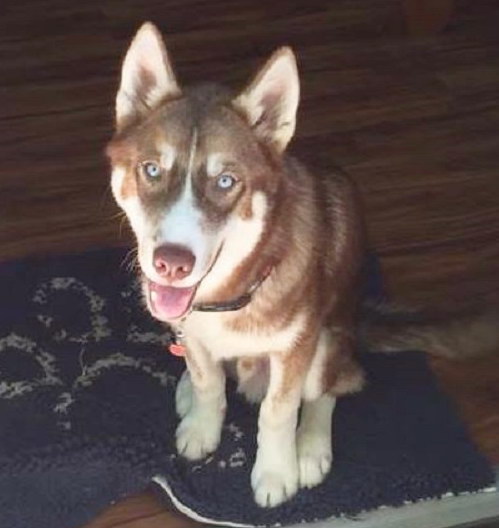 Zorro is a six-month old red and white boy who was in need of medical attention. His owners relinquished him to Kathy at Sophie's Circle. He was found to be cryptorchid, but more importantly, Zorro needed a femoral head ostectomy.
We were pleased to provide funding for Zorro. He will be available for adoption when he recuperates from his surgery. (September 2014)

Animal Rescue Fund
-
Alex
- Indiana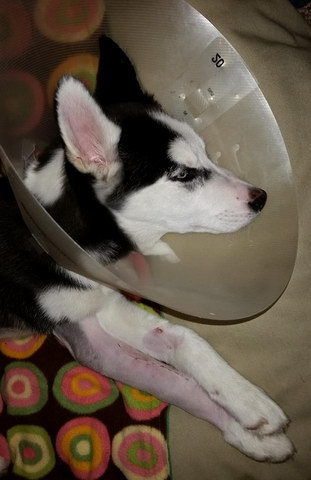 Alex is three months old - a puppy with a broken leg and fractured ribs. Initially, it seemed that he may have been hit by a car. After examination, the veterinarian ruled that the injuries were caused by abuse.
We were all sickened by this news. The Muncie Indiana Police Department is investigating Alex's abuse case.
Alex needed immediate care and his treatment was expensive. We were very happy to help. He will be available for adoption when he recovers from his injuries.
We wish this little boy a much happier life. (September 2014)

Indy Home for Huskies
-
Zeus
- Indiana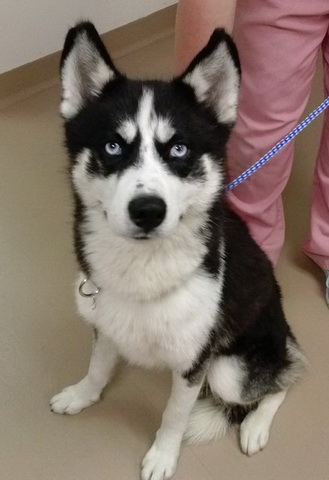 Zeus is one of four Siberians IHH rescued from a hoarding situation via Indianapolis Animal Care and Control. He is only a year old and was diagnosed with cataracts.
IHH raised considerable monies through their fundraising efforts and we were pleased to be able to help this young boy as well. (August 2014)

Northern Lights Sled Dog Rescue
-
Aliy
- Indiana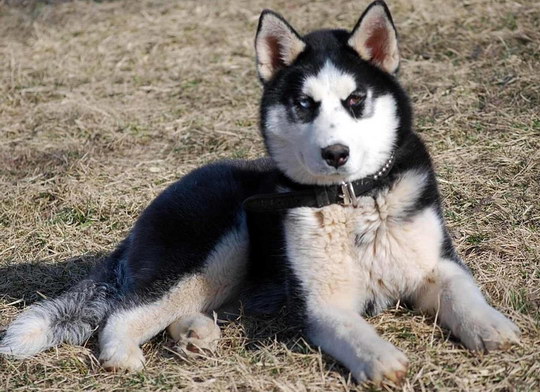 NLSDR took in this lovely young pup from a rescue in Ohio who wanted to place her with a knowledgeable rescue. Aliy had a number of issues including problems with her back legs. She was clearly in pain and began dragging one of her legs even after two months of therapy. An orthopedic specialist diagnosed her with lateral patellar luxations which requires specialized and expensive surgeries.
We were very happy to contribute to Aliy's first surgery. Once she has recovered from her second surgery she will be available for adoption. (August 2014)

Hairy Houdini Siberian Husky Rescue
-
Carbine
- Michigan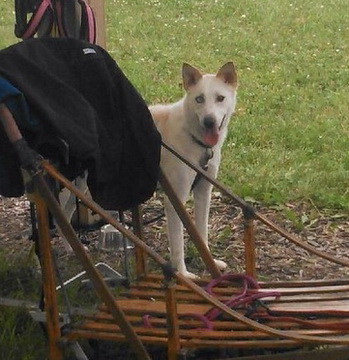 Carbine is three years old and was one of 30 dogs surrendered by a musher. They were all scheduled to be euthanized unless adopted or taken into rescue. Cherie was concerned when Carbine had three days of repetitive vomiting and took him to her vet who diagnosed a small foreign intestinal obstruction.
It was found to be a large cloth substance with hair attached and was successfully removed.
Carbine's prognosis for a full recovery is very good and we were happy to provide significant funding towards his surgery. He will be ready for his forever home soon.(July 2014)

MUSH Rescue (Siberian Husky Rescue of Atlanta)
-
Koda
- Georgia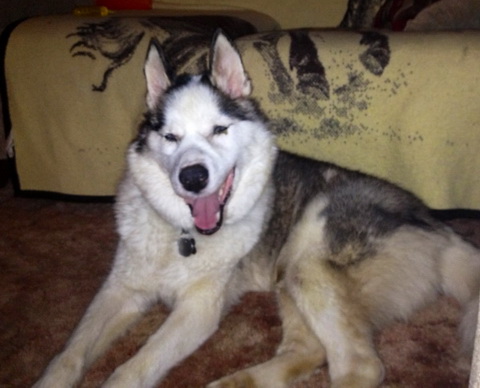 Five-year old Koda was abandoned in North Carolina--dropped off at a vet's office--and was in danger of being sent to a high kill shelter had he not been rescued by MUSH. Unfortunately, he was riddled with medical problems: an ear infection, conjunctivitis, heartworms, seizures, skin issues, rear leg lameness, dental problems, and a small cyst on his stomach.
Koda desperately needed diagnostic testing to determine the cause or causes of his problems and we were pleased to help with funding for this. Although the tests are still inconclusive, there are two potential adopters interested in him. We wish him all the best! (July 2014)
Update: Koda is still in foster care. He has Lupus which requires daily medication, including eye drops, for the rest of his life. He is still looking for the forever home that can afford the $100-$150 of monthly expenses in exchange for a furry bundle of love. (September 2014)

Hairy Houdini Siberian Husky Rescue
-
Piper
- New York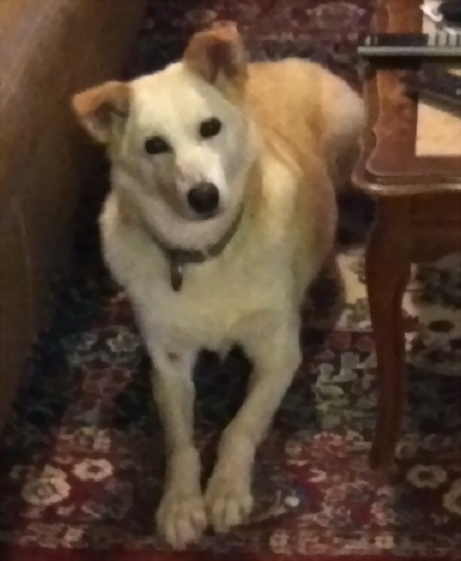 Piper is a six-year old Siberian Husky mix who was recently adopted from Hairy Houdini. Her new owners were concerned about her bad breath and had her teeth checked. Piper was badly in need of extensive dental work which included extractions and scaling. As well, her gums were severely infected threatening her internal organs if they had become septic.
We were pleased to provide funding to help Piper and hope that she enjoys eating once her mouth is healed! (July 2014)

The Last Resort Rescue
-
Desmond
- New Jersey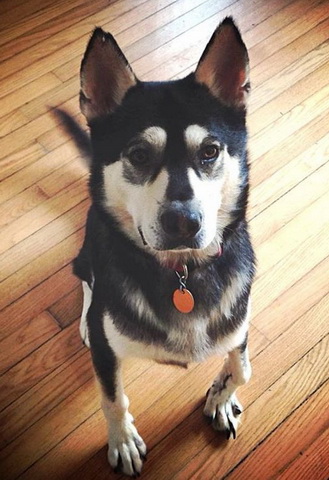 Desmond is a young boy who was owner surrendered to a high kill facility. Julia told us that he was left tethered outside and his family got tired of him. He had a limp possibly due to an earlier injury that had not been treated, and was in pain. He needed expensive orthopedic surgery: carpal arthrodesis in which his leg joint was permanently fused with a bone graft and stabilized using a metal implant so that the bones can heal together.
We contributed significantly to Desmond's surgery. He will need post surgery physiotherapy but should make a full recovery. (June 2014)

The Last Resort Rescue
-
Coco
- New Jersey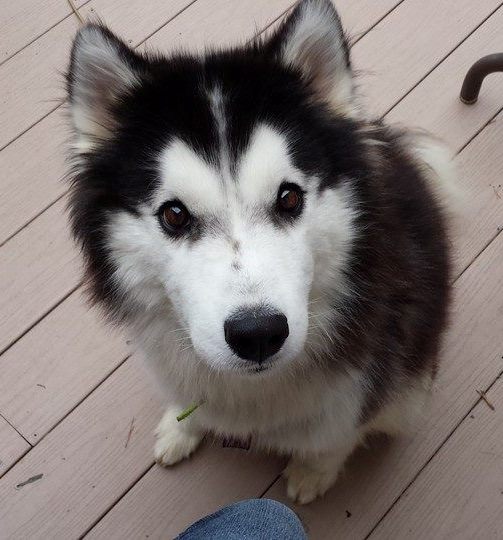 This young boy was an owner surrender to a high kill shelter which put him in a vulnerable position for euthanization. Coco's crime? He kept escaping his outside tether to join his family in their house. He had been severely neglected and when Julie had him vetted he was found to have multiple parasites severe enough to cause major inflammatory issues in his GI tract.
Julia tells us that Coco was treated successfully and "has already been adopted into a wonderful forever home."
We love these happy endings! And we were pleased to help make Coco's future secure. (June 2014)

Forever Husky
-
Sequoia
- Illinois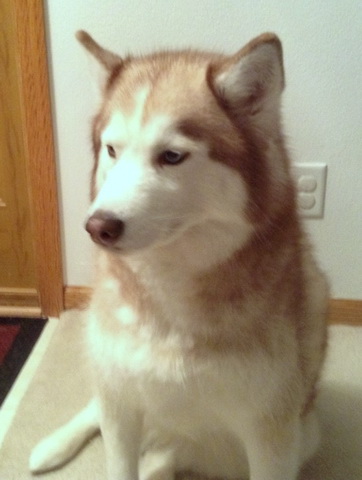 Sequoia is a pretty red and white four-year old girl whose owner was going to have her euthanized because she was diagnosed with severe damage to both hind legs. Forever Husky agreed to take her into their care and Lance has described her as very sweet and playful.
Sequoia needed very expensive surgery: she had ruptured cranial cruciate ligaments on both legs and needed a procedure which changes the angle of the joints to achieve stability (TTA: Tibial Tuberosity Advancement). Her prognosis is favourable but she will need post surgical therapy.
We were very happy to help with funding and hope that Sequoia finds her forever family once she has recuperated from her surgeries. (June 2014)

Howl at the Moon Siberian Husky Rescue
-
Scout
- Ohio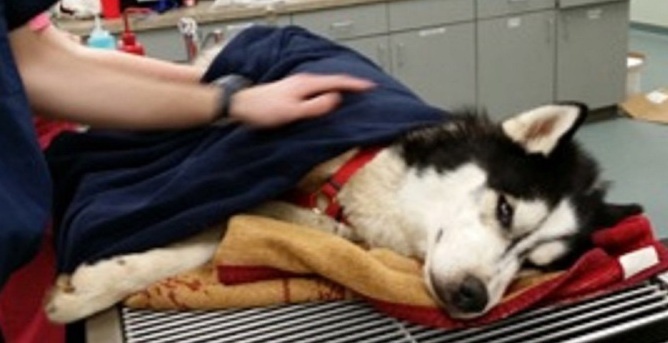 This young pup was pulled from a North Carolina shelter and was scheduled to be neutered. He had an adverse reaction to pre-op medication and was rushed to an emergency vet. Once he was stabilized, he underwent cryptorchid neutering a few weeks later.
We were happy to contribute funds to help Scout and wish him a happy life. (June 2014)

Howl at the Moon Siberian Husky Rescue
-
Kato and Denali
- Ohio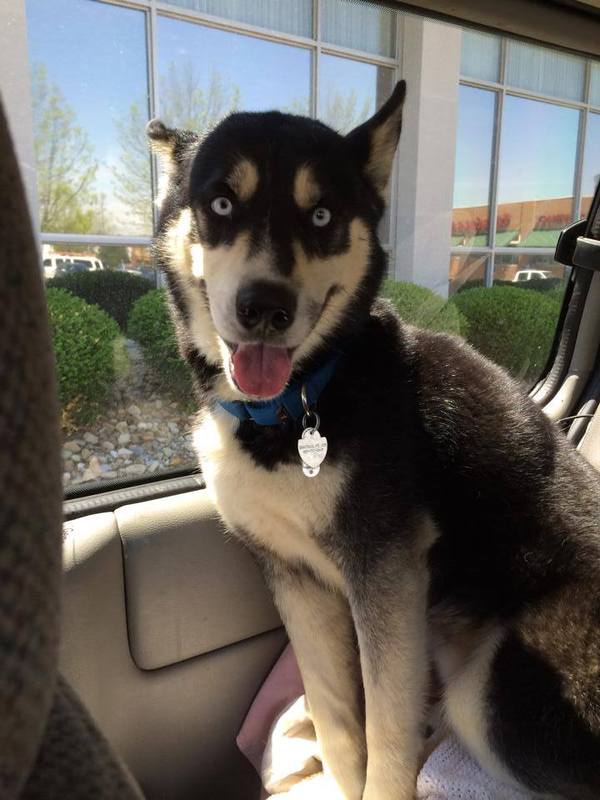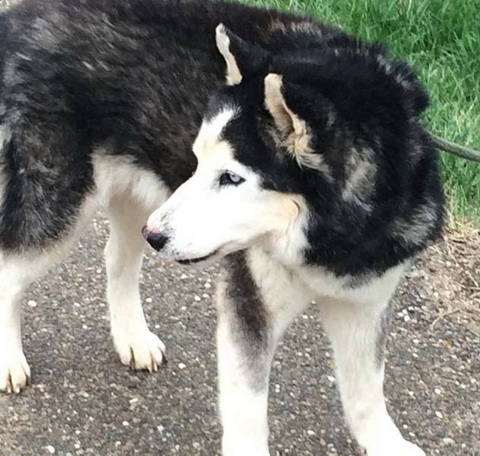 These two young boys were pulled from a shelter in North Carolina. One-year old Denali (right) and four-year old Kato (left) were found to be heartworm positive.
We were pleased to pay for their treatment and hope they find happy forever homes once they have recovered. (May 2014)

Northern Exposure Siberian Husky Rescue, Inc.
-
Max
- New Jersey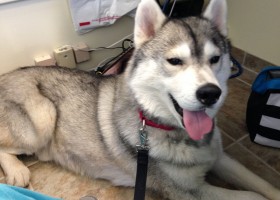 Gerri wrote us about Max's many problems which took months to diagnose. He was a puppy mill rescue and diagnosed with epilepsy, severe hypothyroidism, and a low heart rate. Max underwent many tests--in particular cardiology tests.
Max is only 5 years old. We were glad to be able to provide funding for the necessary tests to ensure a happy life for Max. (May 2014).

Texas Sled Dog Rescue
-
Isis
- Texas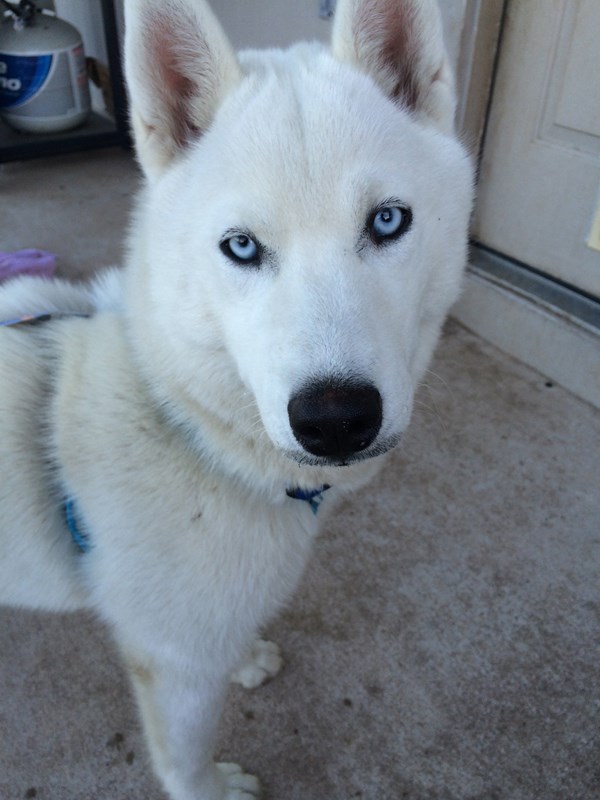 This pretty little girl has endured a great deal in her short life. Her owner had hoped to breed her until he discovered that she would need surgery he wasn't willing to pay for. Instead, he was prepared to have her euthanized, but agreed to surrender her to Paula.
Isis (at six months) needed surgery for an ectopic ureter. Paula was able to raise considerable funds for the surgery and we were happy to provide additional funding. (May 2014)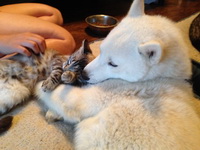 Update on Caine
- England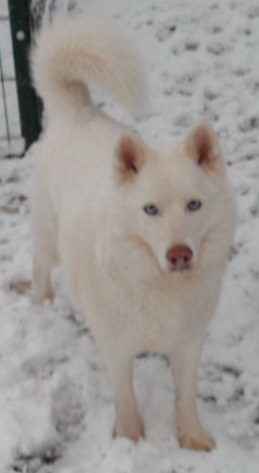 Vicki Stanton wrote to give us an update on Caine, a Siberian Husky we helped in 2008 through Siberian Safe Haven. Click here to read his story.
"First I want to thank you again for your help. He is doing very well. He moved with us to England. Not so sure he enjoyed the flight, but he loves the weather. Although, he must not have lost all his Florida traits as he loves snuggling on the sofa in a blanket.
"His health is very well and he is very happy.
"Who would have guessed this sick, death row dog would come so far, he actually acts a bit " Posh " at times. He has a big summer ahead as he will be travelling around Wales." (April 2014)

Husky House Inc.
-
Anuk and Aleera
- New Jersey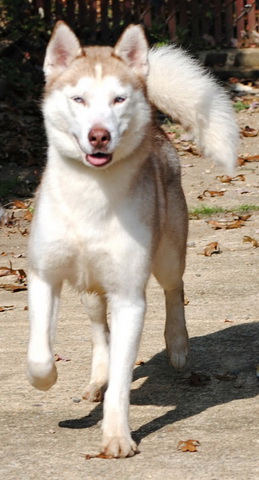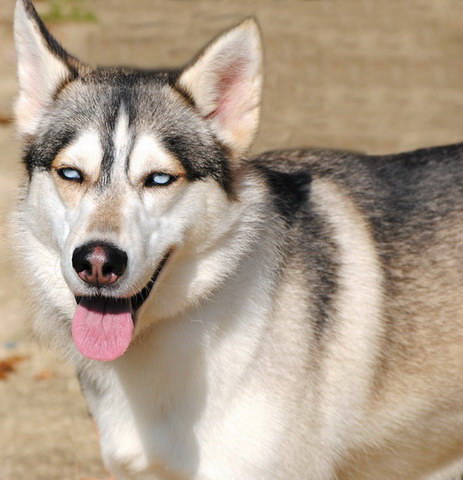 Anuk (a two-year old red and white boy) and Aleera ( a two-year old black and white girl) were picked up as strays and diagnosed with heartworms. They have been treated successfully and Lorraine tells us that they have been adopted together!
We were pleased to provide funding for their treatment. (April 2014)

Second Chance Animal Rescue
-
Sadie
- Nevada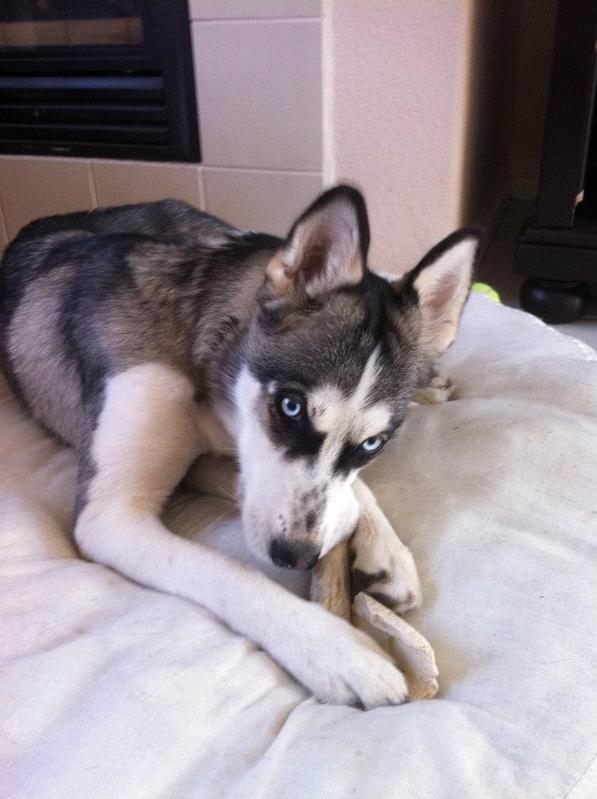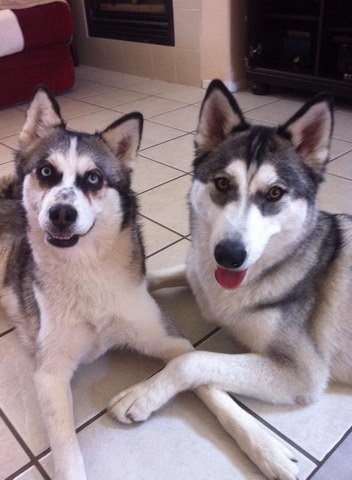 Ashley's rescue pulled this young girl from a Las Vegas shelter. Sadie was checked by a veterinarian and found to have severe cataracts: she was almost blind. Sadie was referred to an ophthamologist who recommended cataract surgery to restore her vision because without it her condition would likely progress to glaucoma, and eventually to enucleation. A second opinion confirmed this diagnosis.
Because she is only a year old and likely to face considerable pain with glaucoma, we decided to help fund this surgery to ensure that Sadie will be adoptable when she has recovered from the surgeries. (April 2014)
Update: Sadie is doing great after her surgery, which was a complete success. It has been so uplifting to see her regain her sight, her foster home said that as she was healing she started chasing lizards in the backyard that she had never been able to see before. She has been placed with her forever home, where she loves to go on their daily walks and play at the lake. She is living with her Husky sister, Athena (see picture on the right), and her chihuahua brother,

Texas Sled Dog Rescue
-
Reba
- Texas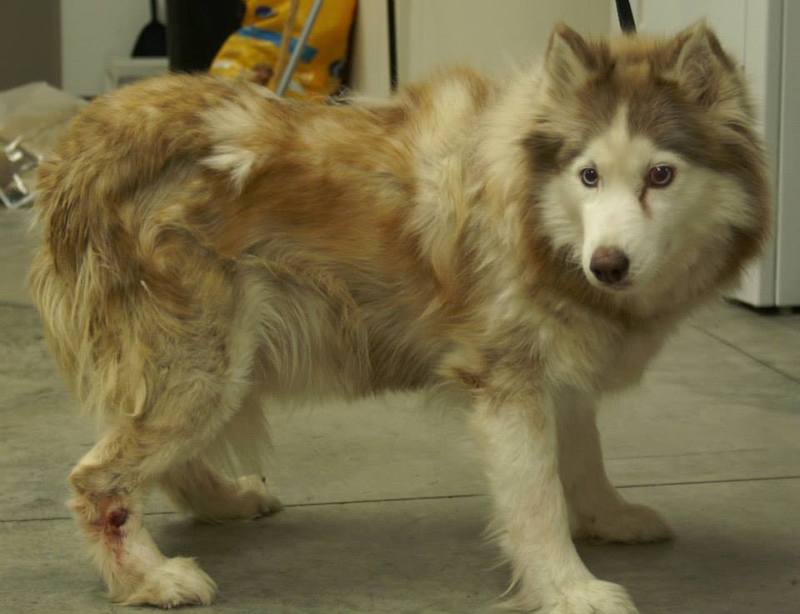 Kim writes that Reba came into rescue from an animal shelter last May. She was diagnosed with glaucoma and became acutely blind despite aggressive medical treatment. "The decision to enucleate both eyes was made to minimize pain and complications that could still occur despite her vision loss."
Kim's rescue raised a considerable amount through a fundraiser and we were pleased to contribute as well.
Reba is a beautiful red and white woolly who will be available for adoption soon. (March 2014)

Lost Tails Animal Rescue
-
Nymeria
- Missouri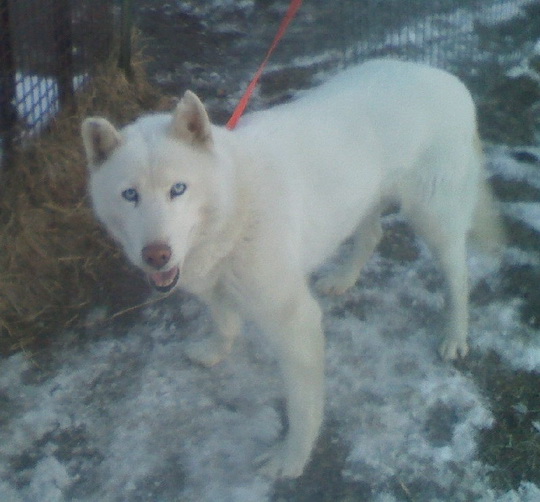 This pretty white blue-eyed girl was rescued from an Amish puppy mill where she had been bred for years. As Jennifer told us, "her owner surrendered her without a name--just a number--because 'her puppies kept dying.' "
Nymeria is only five and has multiple mammary tumours. Jennifer describes her as "unbelievably sweet and good natured, patient with other dogs and puppies, good with my children. She loves everyone."
We contributed funding for the removal of the tumours. This was a complicated case and we were all very touched by the plight of this poor girl who is now enjoying the life she deserves. (March 2014)
Update:Jennifer wrote to say "I wanted to let you know that Nymeria was adopted (and renamed Stella) and has a wonderful home to live out the remainder of her life where she can sleep on a bed, play at the park, and swim in the creek. Thank you for all of your help with her care." (May 2014)

Massachusetts Union for Siberian Huskies (MUSH)
-
Echo
- Massachusetts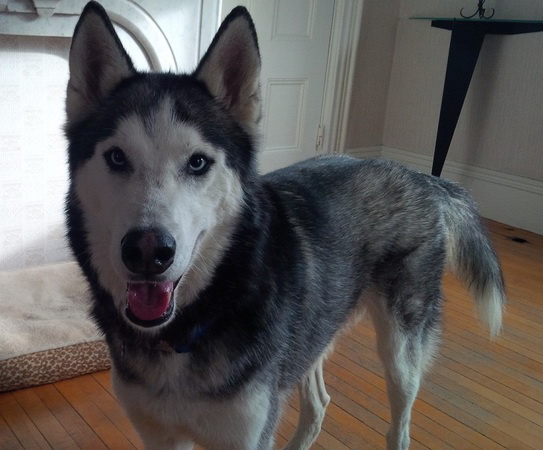 Echo's owner couldn't cope with his frequent seizures so surrendered him to MUSH. Before dealing with the seizures, however, Joice told us that he required abdominal surgery for an obstruction to remove a "foreign object." Echo had eaten a portion of his leash! (Why-oh-why do they do these things!).
Through donations and a benefit dinner, MUSH was able to raise the majority of funds needed to help Echo. We were pleased to contribute as well.
Once Echo's seizures are stabilized, he will be made available for adoption to a family who can provide the necessary care and veterinary monitoring Echo will need to ensure a long and happy life. (February 2014)

Harnessed to Hope Northern Breed Rescue
-
Cody
- Pennsylvania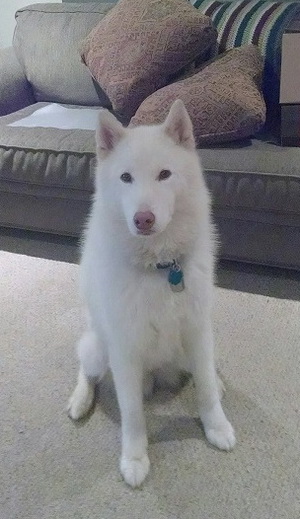 Cody had been tied outside 24/7 and neglected, but his owner agreed to surrender him to Harnessed to Hope. Cody had numerous health issues and also needed dental surgery as well as surgery to remove a tumour on his eyelid.
Harnessed to Hope has been fundraising on Cody's behalf and also received funding from the SHCA Rescue Trust. We were pleased to contribute funds as well to ensure a happy future for Cody. (January 2014)

Alabama Siberian Husky Rescue Inc.
-
Sasilya
- Alabama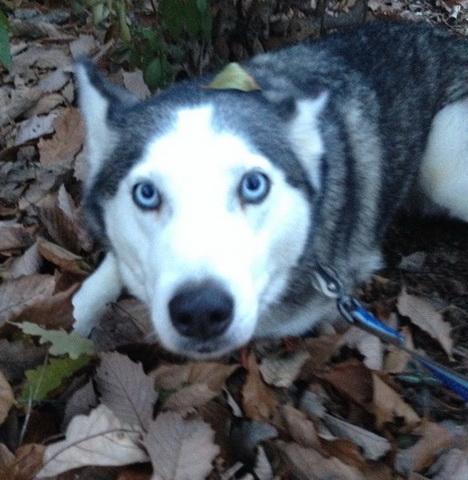 April was able to take in this young girl (along with her mother) from a Birmingham shelter. As April told us, "Sasilya is such a sweet girl, we couldn't let her down." Sasilya was diagnosed with heartworms and treated successfully. We were pleased to pay for this treatment to help this pretty girl and this relatively new rescue.(January 2014)