2008 (32 dogs)
Here are the dogs we helped in 2008. We were pleased to make contributions towards their medical expenses to ensure happy and healthy lives for them all.

Adopt a Husky, Inc. - West
-
13 puppies and dogs
- Washington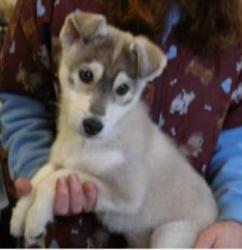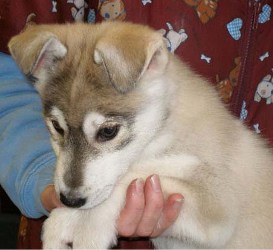 For those in the Siberian rescue world, Tracie Franke needs no introduction. We all know her as an angel! A Colville, Washington breeder with 36 Siberians and Malamutes was subject to a raid by animal control officers in November. The dogs were in dire shape. They were ill, malnourished (eating scraps and bones thrown to them), and had had little interaction with humans. Some of the puppies were only two weeks old. Tracie herself took in four of the adults and four puppies; the remaining 28 dogs were taken to fosters and other rescue groups nearby.
All the dogs were in desperate need of medical care. The sheer enormity of such a rescue is overwhelming (and similar to how SOS-SRF began ten years ago). We were very happy to help Tracie with the medical expenses of 13 Siberians (adults and puppies). Lois Leonard would be so proud! Tracie sent photos of some of the pups; Squirt and Timber at 9 weeks are pictured above. (December 2008)

Independent (2) -
Mako
- Maryland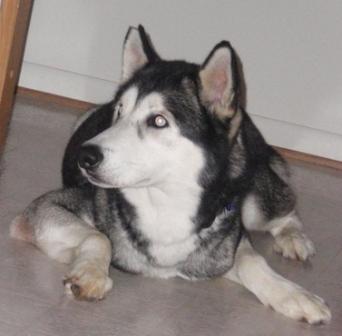 Mako is a very lucky young boy. He was adopted by a well-meaning family whose circumstances changed after a few weeks. In the meantime, this family had Mako vetted and he was found to be positive for heartworms. His treatment was a two-stage affair and his first adopters paid for the first treatment before returning him to the shelter. Mako is a handsome 3-year-old with blue eyes and it wasn't long before a second adopter took him home and paid for the second HW treatment. We were pleased to reimburse both adopters for both HW treatments, and we wish Mako a long and happy life. (November 2008)

Sasha's Legacy of Idaho Alaskan Malamute/Siberian Husky Rescue
-
Artick
- Idaho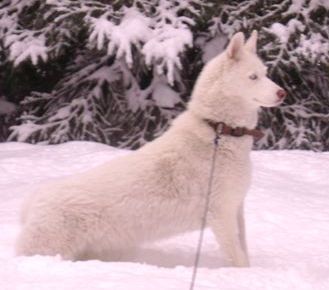 This handsome young boy narrowly escaped euthanasia (the pound was full) when Karen rescued him. She told us "he's about eight months old, non aggressive, loving, playful--just a super dog. I did not want to put him down." Artick's growth plates were damaged causing very irregular and uneven patterns among the bones of his left front leg. Without corrective surgery, he may have lost the leg.
The surgery was urgent as Artick was growing and his ulna wasn't. Artick's prognosis for a full recovery is good although he may need further surgery once he's fully grown.
We were pleased to make a substantial contribution towards Artick's surgery. (November 2008)
Update: Karen sent this photo taken seven weeks after Artick's surgery. He's on a long leash checking out the deer in the woods! She says "he's soooo sweet and such a clown! We love him and hope there's someone out there who will want to have him and spoil him rotten." We hope so too! (January 2009)
Update 2: From Karen: "Remember Artick? Well, after his second surgery that you don't know about and $4500 more, he went to his forever home up in Canada." (July 2009)

Independent -
Ella
- South Carolina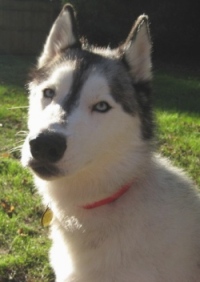 This little beauty was saved by a rescuer affiliated with Alaskan Malamutes. She told us she had a soft spot for Siberians and was struck by Ella's zest for life: "She was so happy, even though she hobbled around the play yard, that I could not leave her there." After various consults, Ella saw a specialist who diagnosed her with "chronic ruptured ACL with medial buttresses and degenerative joint disease in both legs." Ella was to have surgery on her her left knee (expensive surgery) and we were pleased to help substantially with that. (November 2008)

SEMO Animal Rescue Alliance
-
Bocephus
- Missouri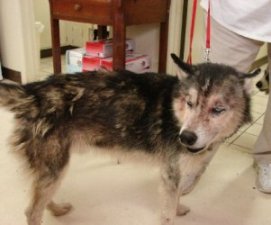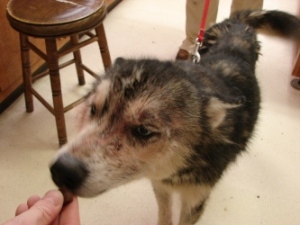 This poor pup is suffering from a skin infection (pyroderma) for which he is currently being treated. He is only 18 months old and very underweight. We hope Alanna will send us "after" photos and news of his adoption. (November 2008)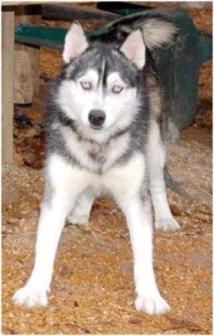 Update: Bocephus has greatly improved! Peg Moore writes, "Bocephus is doing great. He runs so fast around the dog yard that his legs hardly touch the ground. He is the friendliest dog and loves everyone." (March 2009)

Snow Dog Sanctuary -
Bo
- Missouri
This gorgeous 9-month old pup came into rescue because his previous owner no longer wanted him. Hard to believe! Bo was having problems with his knees which caused him pain. He is with a new rescue which hasn't established funding patterns yet, so we agreed to help to have Bo's problem assessed. He will need monitoring, but the situation doesn't appear to be serious at the moment. (November 2008)

Siberian Safe Haven Inc.
-
Caine
- Florida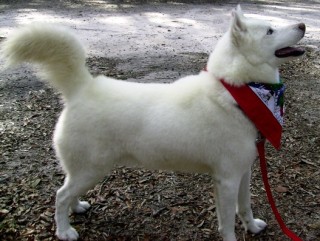 Caine is a 4-year old white male Siberian with blue eyes who was diagnosed as "high positive" (stage 2) for heartworms. According to the rescue's website, "Caine may have been used as a bait dog for fighting dogs. All but two of his teeth are missing. He is also deaf. He is a strong boy and is doing well with his heartworm treatments. Despite his disabilities, he is a sweet, silly and playful boy." (October 2008)
Click here for a 2014 update.

Bay Area Siberian Husky Club (BASH)
-
Link
- California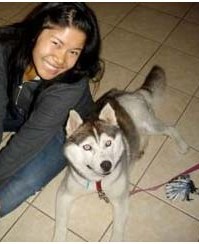 Link is a 22-month-old black and white male with blue eyes. Randee wrote us that he had incurred a spinal fracture of his hip at five months of age. While Link did have corrective surgery at the time, it resulted in only a partial repair and he was in severe pain months later. Link had corrective surgery which required removal and replacement of the hip bone and ball joint.
SOS-SRF was able to provide substantial funding for Link's surgery and we were pleased to hear that this sweet little boy has recovered fully and is walking nicely. (October 2008)
Update: Link was adopted 10 days after his surgery by a wonderful family with 4 adult children living at home. They had had a Siberian who had died tragically a few months before. They wanted another Siberian but were looking for one that wouldn't pull as much. Link was the answer. He is small for a Siberian but the personality is there. They love him a great deal. (November 2008)

Northern Lights Sled Dog Rescue
-
Jada
- Indiana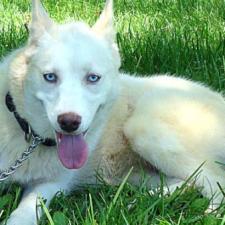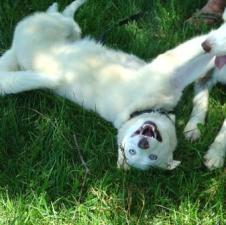 Jada is 10 months old and was at a kill shelter in Illinois when NLSDR pulled her. Julie writes "we had no idea she had a medical condition though it's readily apparent from her odd walk. Her right rear leg is completely dislocated (out of the socket)." Jada was in pain and needed immediate orthopedic surgery. The orthopedic specialist found hip dysplasia in both hips with the right hip too advanced for the standard procedure performed to stabilize hip joints. Instead, the ball of the ball and socket joint was removed and a soft tissue mass was placed between the socket and the femoral neck to provide a good and comfortable gliding joint. Jada's prognosis is excellent although she will need a similar surgery on her other hip in the future.
Jada is a lucky little girl: she has been adopted. Julie tells us that "this is an amazing home who wanted to take Jada for her recovery and where Jada is getting her medication in creme puffs! " Jada's new family is aware that her second hip will need surgery and is prepared for that contingency.
We were very pleased to pay for Jada's surgery and wish her a long and exuberant life. (August 2008)

Polaris Siberian Husky Rescue
-
Kenai
- Colorado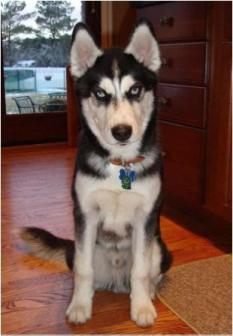 This handsome puppy has a problem. He likes to eat rocks. Big ones. His owners were unwilling to pay for yet another surgery to remove more rocks a short five weeks after the first surgery so they surrendered him to Polaris Siberian Husky Rescue. Kenai required emergency surgery for intestinal blockage after ingesting 3-inch rocks.
Why do they do these things? Well, it seems that this is a condition called Pica Syndrome which Wikipedia describes as a "medical disorder characterized by an appetite for largely non-nutritive substances." Evidently it's a condition which affects both humans and animals.
Sharon Nichols at Polaris Siberian Husky Rescue writes that approximately half the funding for Kenai's surgery came from other sources. SOS-SRF provided the other half.
Sharon's goal for Kenai "is to adopt him to a new owner who will keep him away from rocks." We hope that Kenai finds a forever home with lots of grass! (July 2008)

Closer to Home Animal Advocates
-
Zeta
- Michigan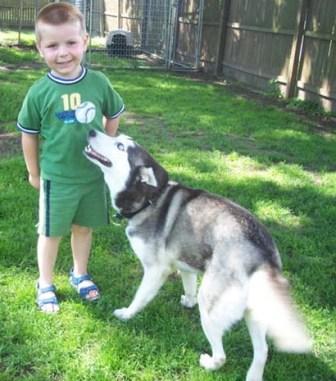 Zeta is a gorgeous 4-year old who was taken from her owners by a humane society in Ohio. But Zeta didn't go alone: she was accompanied by her four 11-month old pups. The puppies were adopted but Zeta was scheduled to be euthanized (by gas chamber) because she was heartworm positive. The humane society called Mindy Storen. Mindy writes, "they told me she was very sweet and they didn't want to kill her so I agreed to take her and treat her heartworms. They were right. She is a very sweet girl."
Zeta was spayed, but two days later, began bleeding internally and needed emergency surgery to save her life. Blood was drained from her abdomen (almost 1.5 litres) and Zeta needed a transfusion. Mindy took two of her foster dogs to the clinic . " Prince was the best match and they used him as the donor. He is now Zeta's Prince Charming!"
There will be tests to determine what happened with Zeta. Evidently it was not a complication from the spaying. Once Zeta has recovered sufficiently, she will begin heartworm treatment. Mindy sent us an update: "Zeta is feeling fine (just had her staples removed) and is wiggly and happy. She is going to make a wonderful pet for someone. We adore her!"
SOS-SRF was pleased to make a substantial contribution to Zeta's surgery. (July 2008)

Husky House Inc.
-
Rocky
- New Jersey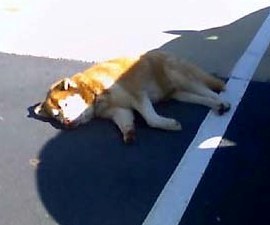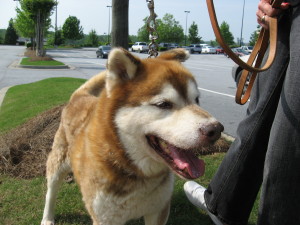 Readers of Sibernet-L may remember reading about Rocky a few months ago. He was found lying in a parking lot near Atlanta. He was unresponsive, exhausted, filthy, dehydrated, and full of worms and fleas. A concerted effort by several rescuers saved Rocky's life. He was vetted and found to have a severe urinary tract infection, a limp possibly caused by weakness in his hindquarters, and a ruptured anal gland. Rocky also tested positive for heartworms (SOS-SRF paid for the treatment).
Rocky is 5-7 years old with brown eyes and is now in foster care with Husky House. Amy Hofer writes that he's "on the road to health. He may be stubborn and a bit of a challenge to train, but Rocky is a survivor. We love him already and look forward to the day when he finds his forever home. We'll never know why he lay down in that parking lot - whether he felt too sick and exhausted to go on or was hit by a passing car and stunned. But he started a new journey there and now he's on the road home." (July 2008)

Huskies R Us
-
Faith
- South Carolina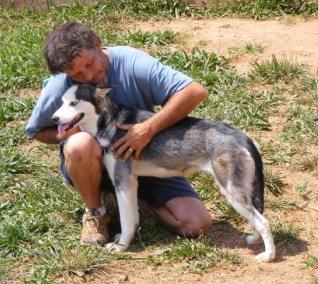 Yet another heartworm case. This pretty little girl was rescued from an animal shelter after having been picked up as a stray. She is responding well to her heartworm treatment and Becky writes "even with just the pre-treatment we are seeing a new dog emerge from the shell of the poor creature that we first saw on the animal control concrete floor a few weeks ago. I am also pleased to announce that Faith has put on about seven pounds since we brought her to our home!"
Becky is looking for a very special forever home for this sweet young girl. (June 2008)

Snow Paws S.V.U.
-
Sallie Ali
- Missouri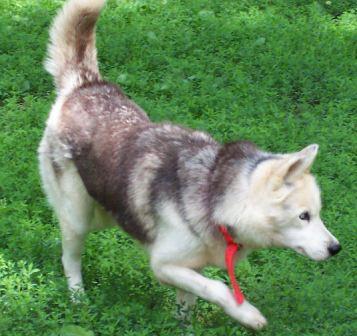 This pretty girl is about 3-4 years old and was pulled from an animal shelter the day before she was scheduled to be euthanized. After her routine checkup, she was found to be heartworm positive. She has been treated and is recovering well. Linda Stookey describes her as "a little doll." During her recuperation Sallie Ali would woo quietly to let Linda know of her her potty needs.
Sallie Ali is looking for her forever home. Linda writes that "she is full of life" though had to be kept calm during her treatment. "She is so good--you wouldn't even know she is here." We hope Sallie Ali finds her loving family soon. (May 2008)

Siberians Needing Owners (SNO)
-
Lassen
- Washington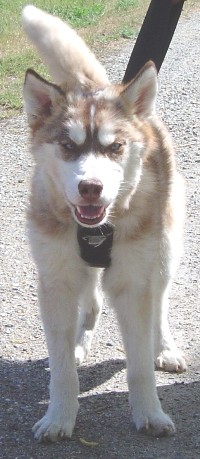 Lassen is a young pup who was part of a puppy mill seizure in Wenatchee, Washington. SNO rescued many of the dogs and they needed veterinary care. Gail took several of the pups into foster care. When Lassen got a bit too rambunctious in her foster home, Gail was horrified: "Lassen did a 'head-on' in play. Her first three neck vertebrae were displaced and one was cracked." In her application for funding for Lassen, Janet from SNO writes, "Lassen has the temperament of gold, and was giving kisses and tail wags even when lying on the vet's table with a broken neck."
Gail kept Sibernet-L posted on Lassen's progress. In one email, she writes that "Lassen is a little walking hardware store with a neck full of screws, plates, wires, and glue. " Gail and SNO representatives visited Lassen during her treatment. This sweet puppy had lots of very loving care. Gail has been the most wonderful caregiver and was taught how to do Lassen's physical therapy to facilitate her recovery. Gail tells us she'll need "sling" help" for at least another month. Please visit the rescue's link above to follow Lassen's fascinating story.
We were very pleased to help with funding for this feisty little girl. We hope she finds a forever home who appreciates her resilience and charming "dogality." (May 2008)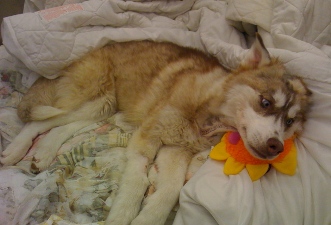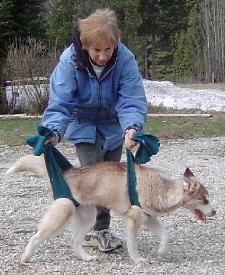 Heavenly Huskies and Cuddly Canines Rescue
-
Foxy
- New York
Foxy is a lovely (now) 8-month old puppy who was in a foster home and doing well after being pulled from a shelter just before Christmas. Barbara reports that she was a "healthy, active pup who seemed to have absolutely no medical issues." Suddenly, in early February, Foxy had a seizure. She was taken to an emergency clinic and for several days had difficulty breathing. She was diagnosed with pneumonia and was put into an oxygen tent. Foxy underwent a number of tests and it appears that idiopathic epilepsy may have been the reason for the first, and subsequent, grand mal seizures. She is currently on medication for the seizures and her prognosis is good.
Foxy's treatments were expensive and SOS-SRF was happy to contribute funding to help her. (May 2008)

Polaris Siberian Husky Rescue
-
Tasha
- Colorado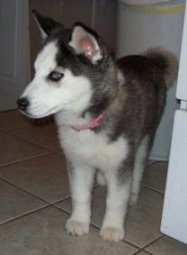 Tasha is a young puppy in foster care who underwent extensive testing for various neurological and medical conditions including seizures, depression, fever, and diarrhea. Further tests brought the diagnosis of an acute viral encephalomyelitis for which Tasha was successfully treated
Her foster parent, Shawn, writes that Tasha is growing rapidly and has gained weight. "She's the sweetest little girl - and she won't be going anywhere until we can find the perfect home for her."
We wish this pretty pup a long, healthy, and happy life. (April 2008)

Husky House, Inc.
-
Snowy
- New Jersey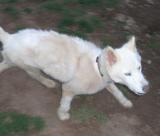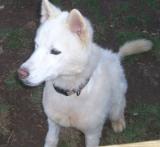 This handsome, young bi-eyed boy was found in NYC and Husky House was asked to help. Snowy was emaciated, severely HW positive, weak, and hairless due to a bacterial skin infection (see below left). He was also suffering from seizures. As Lorraine writes, "this dog is a long term rescue who will take many months of care before he will be available for adoption."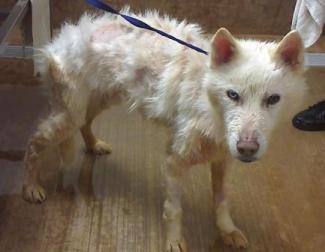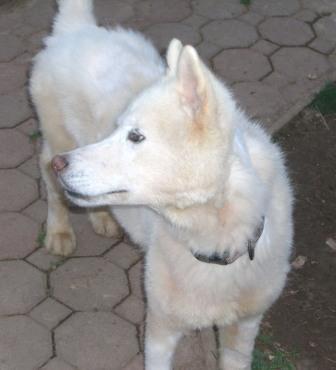 Snowy is recovering well from his skin infection and while he may need medication for his seizures, has been assured of a good quality of life. Lorraine describes him as "a sweet boy who deserved a second chance." (April 2008)

Adopt a Husky, Inc. - West
-
Diamond
- Washington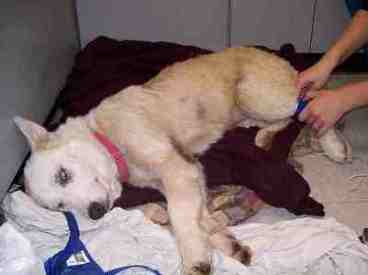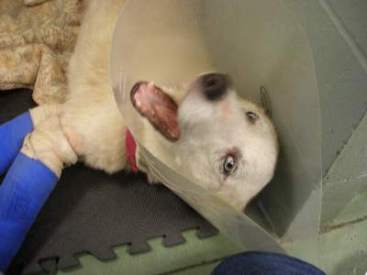 Diamond is a light red and white nine-month old Siberian with blue eyes. She was hit by a car and her owner signed her over to Tracie Franke who immediately arranged for surgical treatment for two broken front legs. In addition, Diamond is malnourished and has infections as well as possible sarcoptic mange. She'll be undergoing tests to determine the reasons for her hair loss. (see before picture on the left). Adding to Diamond's problems, Tracie has discovered that this little girl is deaf!
Diamond is recovering from her surgeries (see picture on the right), but she's not out of the woods yet. Tracie is enchanted with her! Diamond has a "golden temperament" and on waking up from her surgeries, was woo-wooing, wagging her tail, and offering kisses to the surgical team. Despite her discomfort, her splints, and her E-collar, Diamond has been "cooing" to Tracie and enjoying tummy rubs. Tracie says "This dog wears an angel's wings."
Tracie will be looking for a "suitable, FENCED home where Diamond will never be allowed to run in traffic again!"
We care about all the dogs we help, but Diamond is a very special girl who touched our hearts. We wish her a bright and happy future with a knowledgeable, caring, and loving family. (February 2008)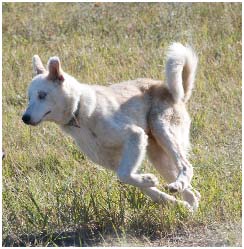 Update: Diamond was a foster failure and was adopted by a Brian and Lani who brought her to Nationals in Gettysburg in late October. She is a lovely little dog who will always need a little extra care because of her past medical problems and who is dearly loved by her new family. (November 2008)

Closer to Home Animal Advocates
-
Panda
- Michigan
Mindy Storen pulled two young siblings from a pound in Northern Michigan over the Christmas holidays. Both were diagnosed with parvoviral enteritis, and unfortunately, Nova didn't make it. Although very ill, Panda did make a full recovery thanks to Mindy. This pretty girl found her forever home very recently and is enjoying her new life with her malamute "brother," Parker. (January 2008)