2009 (17)
Here are the dogs we helped in 2009. We were pleased to make contributions towards their medical expenses to ensure happy and healthy lives for them all.

Northern Lights Sled Dog Rescue
-
Yorik
- Indiana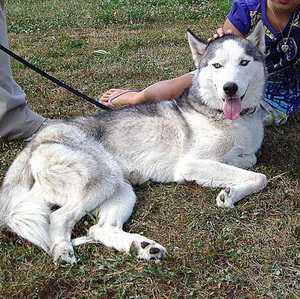 Yorik is a two-year old male, grey and white with blue eyes, found as a stray and favouring his right rear leg. All attempts to find his owner were unsuccessful. Julie writes that "Yorik's vet evaluation revealed a previously broken femur and the pin had migrated: the end was pressing out of the bone and into flesh. This old injury had resulted in severe hip dysplasia and an orthopedic surgeon determined that Yorik needed a right femoral head osteotomy/excision to repair the hip. But Yorik had also damaged his knee and required further surgery--a corrective osteotomy--to repair and stabilize it."
These were very expensive surgeries and we were pleased to be able to help. Handsome Yorik has found his forever home with a family for whom he is the first Siberian Husky so we're sure he's showing them the ropes. (November 2009)

Independent -
Kiera
- North Carolina
Kerston's parents recently lost the Siberian they had loved for seven years and wanted another one. They found Kiera at a local animal shelter. She's a pretty one year old with blue eyes and they fell in love with her. While they were waiting to take her home, Kiera was spayed and had her final tests and vaccinations. She was found to be heartworm positive and if not adopted by this family, would have been euthanized.
We were very pleased to provide funding for Kiera's treatment and wish her a life of love and happiness with her new family. (October 2009)

Texas Husky Rescue Inc
-
Shelby
and
Owen
- Texas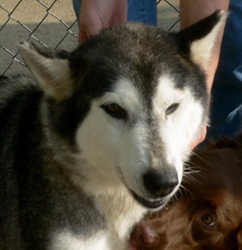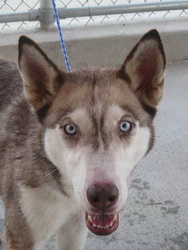 Shelby is a brown-eyed six-year-old female rescued from a cruelty seizure in Texas. Lacie writes that 18 Siberians were removed from the residence and all are in foster homes and doing well. Texas Husky Rescue Inc. took five of the dogs and two females tested positive for heartworms. Shelby was one of them.
Owen is the second of the two females diagnosed with heartworms that Lacie wrote about. Owen is a red and white three year old with blue eyes.
We were happy to pay for their heartworm treatment and hope these pretty ladies finds their forever home soon. (October 2009)

Northern Lights Sled Dog Rescue
-
Jonah
- Indiana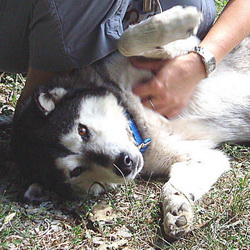 Jonah is a five-year-old black and white male with brown eyes who was hanging around the grounds of a local church. The minister contacted Julie at Northern Lights who agreed to take him. She writes " Jonah was carrying a leg that appeared to be an old injury. We hoped it would be a simple fix, but unfortunately, this was not the case." Jonah needed surgery: a left femoral head excision and removal of degenerative bone. Xrays indicated the bone degeneration with the femoral head about to break off. Jonah needed an orthopedic surgeon for this expensive surgery.
He is recuperating well and his prognosis is excellent.
We were happy to help with funding his surgery and wish Jonah a long and pain-free life. He found a forever home with a couple who say, "He is an exceptionally good, sweet, loving boy and he is going to get the very best life we can give him." (October 2009)

Two by Two Rescue
-
Kell
- Alabama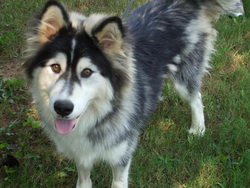 Kell is a gorgeous one-year old black and white wooly Siberian with brown eyes. Sonya wrote about him in her application for funding and she tells his story with great eloquence:: "Kell was tied to a porch of a shack when he was a puppy. He stayed tied for a full year. The owner did not live on the property. Kell had very little interaction or stimulation and lived a life of misery with very little food and water provided. Neighbors would randomly show compassion and give him the necessities. One neighbor finally persuaded the owner to relinquish the dog so that he could have a better life. Two by Two Rescue gladly took him.
"We immediately took him to the vet to be neutered, given shots and to be tested for heartworms. We were elated that he tested negative. Unfortunately, within days of having him, he broke with the deadly parvo virus. We did not have the funds to treat him but our veterinarian is wonderful and treated him regardless of the available funds. Kell spent a week in ICU fighting for his life. He survived and has not quit smiling since. He is expected to live a full healthy life.
"Kell is a very happy little man with a wonderful submissive disposition. He loves other dogs and loves the water! He is available for adoption."
We were very moved by Kell's story and were pleased to fund his parvo virus treatment. (September 2009)

Husky Haven of Los Angeles
-
Marco Polo
- California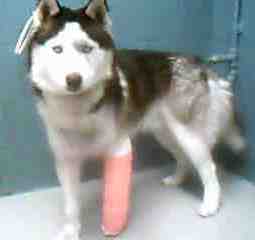 This one-year old pup was rescued from a Los Angeles shelter after his paw had been run over by a car. This resulted in a metatarsal fracture which required the insertion of four pins, one in each toe. The county paid for the surgery, but Husky Haven of Los Angeles paid for the subsequent surgery to remove the pins. Marco Polo's prognosis is excellent and he will be available for adoption as soon as he is fully recovered. We were very pleased to help this cute little guy. (July 2009)

Group Education to Protect and Defend Animals (GEPDA)
-
Cassie
- California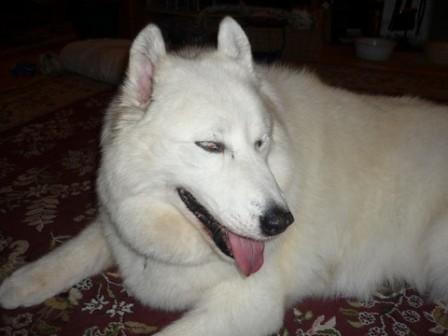 Cassie is seven years old and had been with her family since puppyhood. As Nita writes "this was the only family she had ever known. And then her world (as she knew it) came crashing down. The family divorced, gave up their home, and abandoned Cassie at the groomer's." The groomer did her best to keep gentle Cassie safe, but her pit bull "bullied" poor Cassie leaving her with a torn ligament which needed surgery. Her medical needs had also been neglected and she was found to have a painful urinary tract infection as well.
Nita describes Cassie as "one of the sweetest dogs we have ever rescued. She loves and greets everyone she comes in contact with and never stops smiling, even after all she has been through. She gets along with all dogs, is curious about cats, and doesn't have a mean bone in her body." Cassie has found her forever home. She is doing well from the knee surgery and has lost more weight.(July 2009)

Independent -
Angel
- Georgia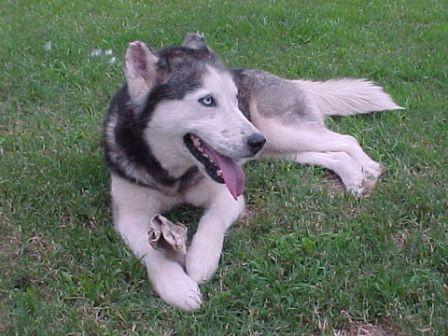 Jacqui writes that this pretty three-year old "was dumped on a man who could not afford her. Her ribs were sticking out and her vertebrae and hip bones visible!" Jacqui provided food while she searched for a home for Angel. The owner's room mate agreed to keep Angel temporarily but he was evicted and Jacqui found her chained to a dog house on a short chain with no food or water close by. She was vet checked and found to be heartworm positive (stage 3). In addition she was infested with worms and diagnosed with a severe bacterial ear infection.
Jacqui found Angel a forever home with a family with a rescue Siberian called Buddy. Angel and Buddy hit it off so after a shaky puppyhood, Angel has become one of the lucky ones.
We were pleased to pay for Angel's treatment. (June 2009)

Snowpaws S.V.U. -
Shadow
- Missouri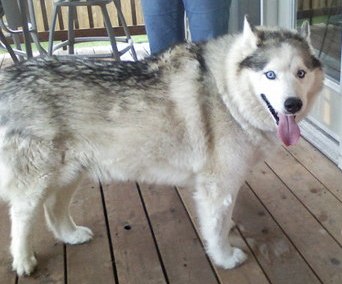 Yet another heartworm case! Shadow is a five-year old female currently in foster care with Snowpaws S.V.U. She is heartworm positive and is undergoing treatment. Shadow is expected to make a full recovery. We were pleased to contribute to her treatment and hope she finds her forever home soon. (June 2009)

Husky House
-
Jack
- New Jersey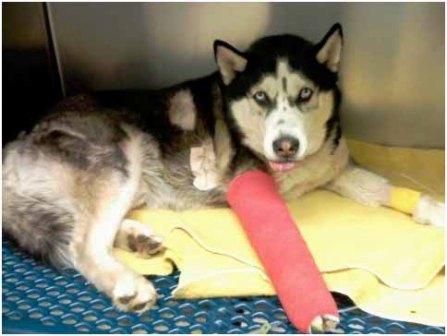 This cute freckle-faced pup was run over by a police car (we're assuming it was an accident)! Husky House was called and Jack was rushed to an animal hospital where he was treated for multiple fractures. He is expected to make a full recovery and should be ready for adoption soon. We were pleased to help with his treatment. (June 2009)

Animal Protection and Welfare Society (APAWS)
-
Tres
- Louisiana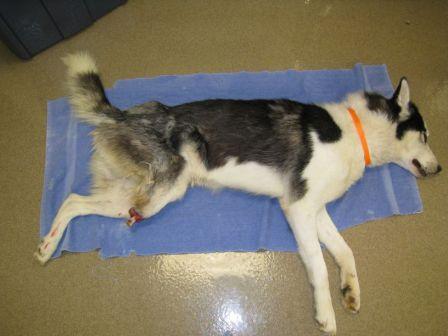 This handsome young boy was picked up as a stray and taken to a shelter. Teri writes that he may have been struck by a car at some point and suffered a broken leg. "It appears that he chewed the leg off!" The staff at the shelter fell in love with him and asked Teri's group to help him. She writes "whatever he has been through has not affected his wonderful disposition and personality. He is a survivor and we could not leave him at [the shelter] to die."
APAWS received a substantial rescue discount for the surgery. We were delighted to fund the treatment for Tres. His prognosis is excellent and he is looking for his forever home. (April 2009)
Update:Tres has adjusted very well to the amputation and he has recovered from his kennel cough. He is a wonderful boy, who always gives kisses to everyone he meets and never stops wagging his tail. All he needs now is to gain some weight and he will be ready to find his forever home. (May 2009)

Southpaws Express
-
Halla
- Louisiana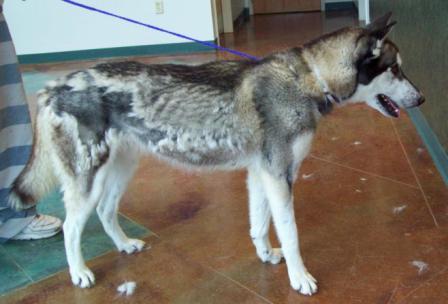 Halla was in a high-kill shelter and in imminent danger of being euthanized because she was heartworm positive. Dawn managed to rescue Halla and have her treated by her veterinarian who provides generous rescue discounts to Southpaws. We were very pleased to pay for Halla's treatment and wish her a happy and healthy life. (May 2009)

Rotts 'n Pups Rescue -
Brody
- New Jersey and Georgia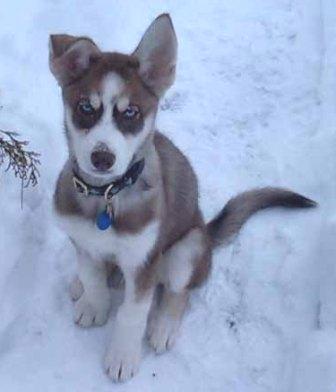 This gorgeous young pup was one of a litter of six puppies born in Georgia. After a period of quarantine in Georgia, Brody travelled to New Jersey to a waiting forever home, but a week after his arrival he became very ill. Amy writes that he became lethargic and didn't want to eat. The diagnosis: parvovirus. Brody was severely infected and spent a week in hospital receiving intensive parvovirus treatment.
He is well on his way to a full recovery. We wish him a very long and happy life with his new forever family. (March 2009)

Northern California Sled Dog Rescue (NORSLED)
-
Romeo
- California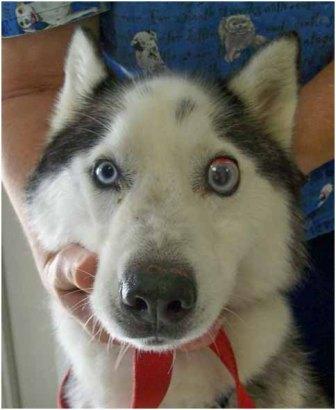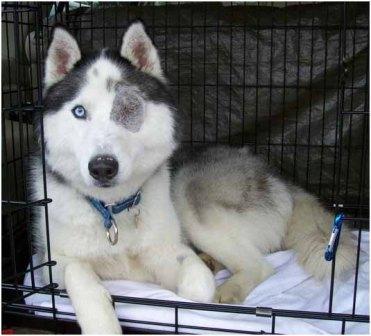 Norsled rescued this handsome young boy who was blind in his left eye from glaucoma and in considerable pain. Romeo's eye was removed and Cathy writes that he has "blossomed into a very happy dog who will adjust to his mono-sighted condition."
Romeo may well develop glaucoma in his good eye and will need regular checkups with a veterinary ophthalmologist and possibly medications. Cathy writes that he is "a very special dog whose life will be complete when he finds the perfect forever home." (February 2009)

Wolfdog and Northern Breed Rescue -
Fuzzbutt
- Missouri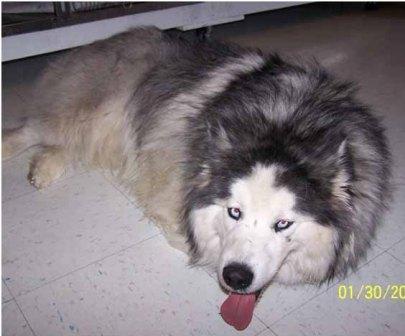 This adventurous young lad decided to climb an eight-foot fence and evidently fell down the other side, fracturing his leg and pelvis. He was living in foster care in an area with limited veterinarian services so Peg had some tough decisions to make. Taking Fuzzbutt to a university hospital to repair the damages was going to be exorbitantly expensive--even with financial help. The other choices were euthanasia or amputation. Peg chose amputation.
Fuzzbutt is recovering well and Peg tells us that he takes great delight in lying on his back and waving his three paws in the air.
We hope this gorgeous woolly finds his forever home soon with people who will give him a more dignified name! (February 2009)
Update: Fuzzbutt was a foster failure and now calls Peg's his permanent home. He runs like the wind on three legs using the remaining hind leg as a pivot to turn on a dime. He plays ball, chasing it and bringing it back. He also uses his front paws to play soccer with the ball. Peachtree vet in Columbia, MO did an awesome job with the surgery. (March 2010)

Harnessed to Hope Northern Breed Rescue
-
Dolce
- Pennsylvania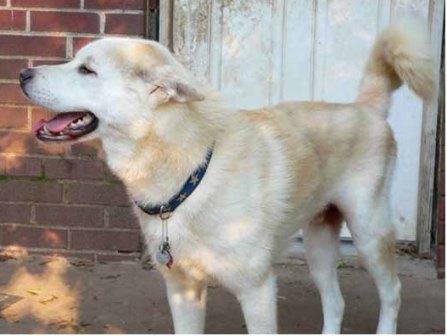 Dolce is a young Siberian Husky/Akita mix and a very lucky boy! He was surrendered to Harnessed to Hope after having been struck by a car. He suffered fractures and dislocations in both his back legs and hips which required both extensive and expensive surgery. Despite the pins and plates in his hips, Dolce's prognosis is good, and with care, he should live a normal life.
Deb Knapp writes that "he is truly special. After everything this boy has been through with surgery and physical therapy, he remains an amazingly sweet dog. If we have to do something that is painful to him, he turns and licks our hands. Simply put, this dog is an inspiration."
We were very pleased to provide substantial finding to help Dolce. He seem to be aptly named. We hope he finds a happy forever home soon. (January 2009)
Update: Dolce became a foster failure. He is now in his permanent happy home with the couple that fostered him. After all the care he received, they decided they just could not give him up. He is truly a sweet dog and will have a happy furever home with his "new" family. (September 2009)