2019
Here are the dogs we have helped so far in 2019. We are pleased to make contributions towards their medical expenses to ensure happy and healthy lives for them all.
Please click on the Funding Requirements link on the left if you have a rescue dog that needs out of the ordinary medical treatment. Please make sure you read and understand our requirements prior to making an application. The link to the rescue application is at the end of the requirements.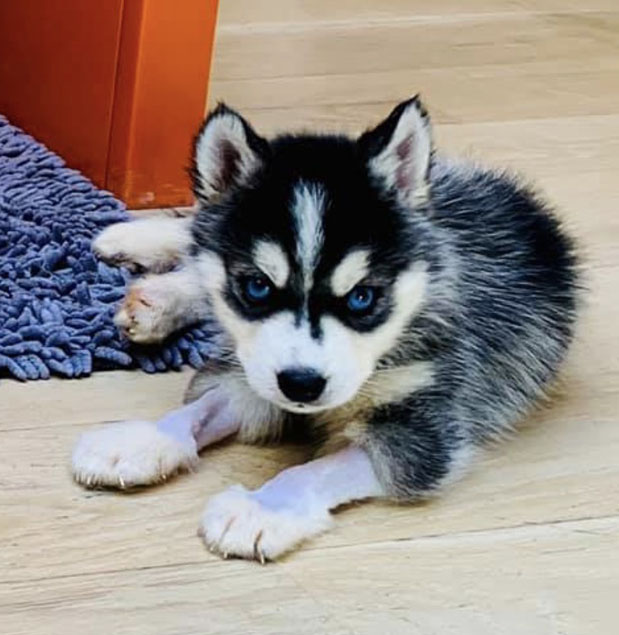 Delaney's Dog
-
Leighas
- California
Maureen describes Leigheas (his name means "to heal") as a miracle Siberian puppy. She learned about this 2-month old pup in need through social networking. He was lethargic and couldn't walk or stand on his own. It seemed he was paralyzed. He underwent numerous tests and was hospitalized as a critical care patient for a week. It was finally a blood transfusion which made all the difference. Leigheas rebounded immediately.
He is flourishing in foster care and looks forward to his forever home soon. We were very pleased to help with Leigheas' treatment. (March 2019)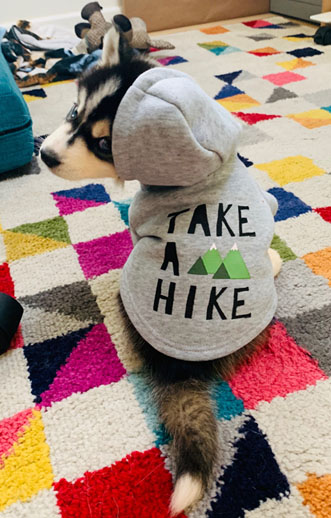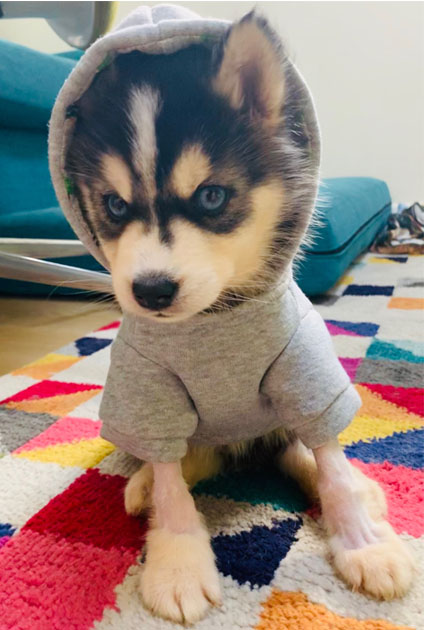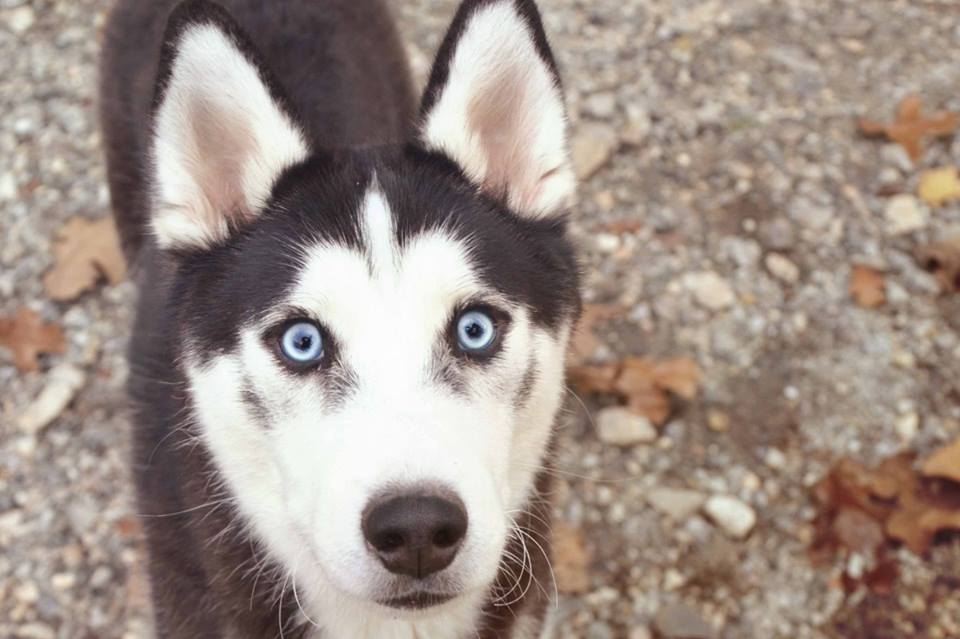 Releashed Rescue
-
Ruger
- Georgia
Ruger is only a puppy and needed specialized and expensive surgery for a liver shunt. Blood that would normally flow through the liver shunts around it causing wastes to reach unhealthy levels in other tissues. This bypassing of the circulatory system to the liver is a life-threatening condition.
Charla did an amazing job of fundraising and we very pleased to contribute substantial funds to ensure a happy and healthy life for Ruger. (March 2019)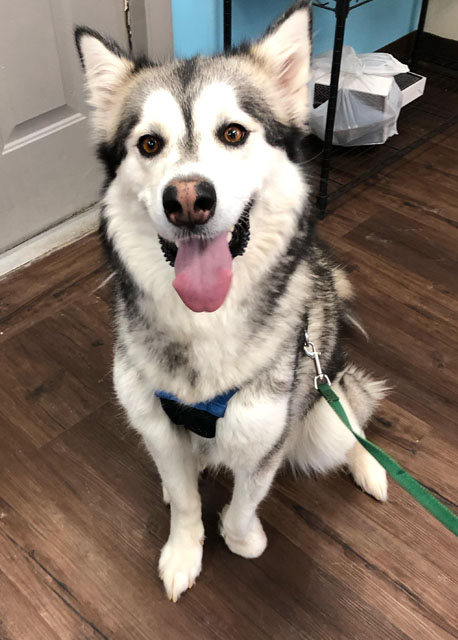 P.A.W.S. (Providing Animals with Support)
-
Kira
- Utah
Kira is three years old and was limping when she was rescued. She appeared to have a deformed foot/paw due to an untreated metacarpal condition. Kira had extensive diagnostic testing with accompanying x-rays. At the moment she appears to be pain-free and uses the leg for balance. The rescue may need to monitor her condition for potential surgery. We wish Kira all the best and were pleased to provide funding for her tests. (March 2019)
Update: Kira underwent an amputation in April.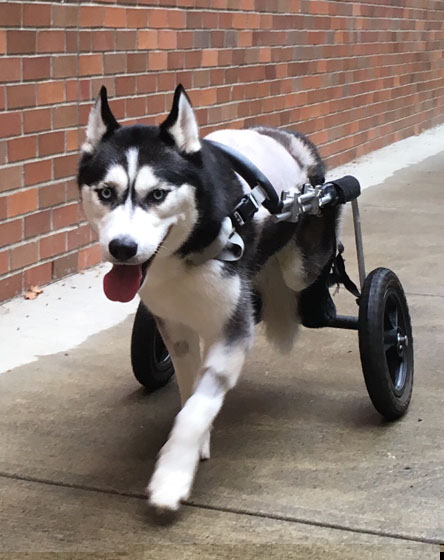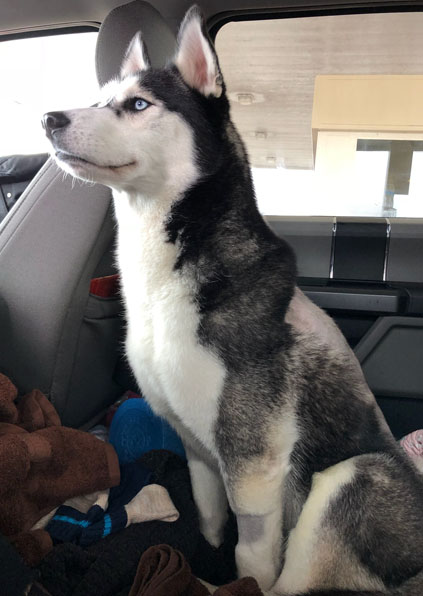 Shadow Rescue
-
Scoot
- California
Scoot is alive today due to remarkable dedication from Shadow Rescue and his foster family. This two-year old boy escaped from his yard and was struck by a car resulting in a spinal fracture. Despite corrective surgery, Scoot was left with paralysis in his hind limbs.
He uses a "scoot-cart" (hence his name) to be somewhat ambulatory. He is a remarkable boy whose vets describe as "happy" and a "lovely patient." But his continuing care is formidable and his foster parents have undertaken to ensure his survival as a healthy and happy dog. They are investigating potential prosthetic devices for him.
Shadow Rescue has an enviable record of fundraising and received generous donations for Scoot. And kudos to his very caring foster parents. We were pleased to contribute funds to help Scoot. (March 2019)

All New Hope Rescue
-
Rudy
- Missouri
Young Rudy (18 months) was an owner-surrender found to be suffering from heartworms. We were pleased to fund Rudy's treatment from the Julie Moreland Heartworm Fund and wish this pup a long and healthylife. (February 2019)

Forever Husky Inc.
-
Sunkist
- Illinois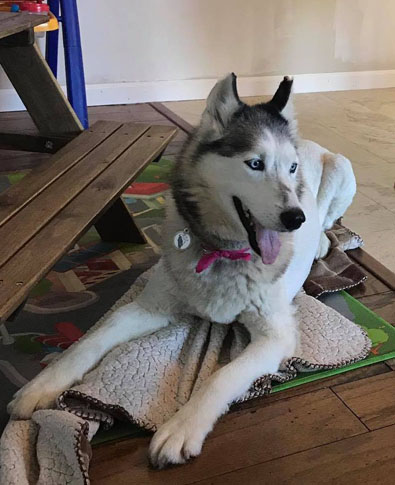 Sunkist-Blush is a very lucky lady! Lance's rescue took her in from an animal control. She is 11 years old and appeared to have a UTI. In fact, after several tests, an ultrasound revealed a renal mass (left kidney). Left untreated, the cancer would have spread quickly to other organs. Since there were no metastatic signs of disease, Forever Husky opted for surgery to remove her left kidney. Sunkist is in good health and has recovered well from her surgery.
We were very pleased to help fund this expensive surgery to allow sweet Sunkist another few happy years. (January 2019)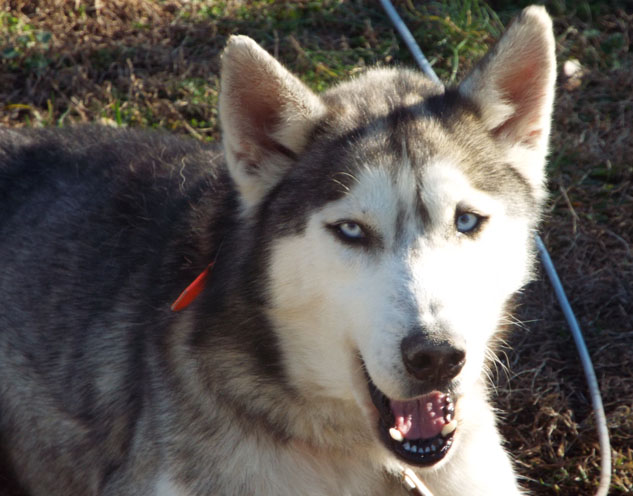 Half-Way Home Canine Rescue
-
Sebastian
- North Carolina
This little boy (18 months) was pulled from an animal shelter and diagnosed with heartworms. Half-Way Home was a victim of two hurricanes which soon depleted their funds which had to be used to make repairs to keep their rescue dogs safe and secure.
Sebastian recovered well from his treatment and we hope he has found his forever home. Funds for his treatment were provided by the Julie Moreland Heartworm Fund. (January 2019)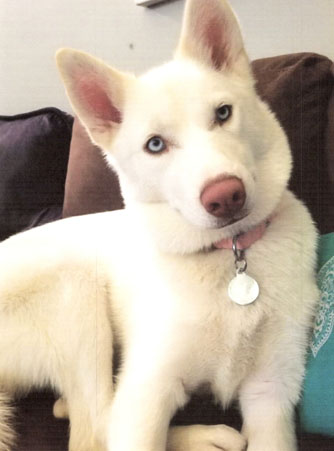 Delaware Valley Siberian Husky Rescue
-
Ori
- Pennsylvania
Ori is only a year old and was diagnosed with juvenile cataracts. As Chris wrote us, "she was nearly blind. She had lost vision in her right eye and had only peripheral sight in her left. The cataracts were significantly impairing her vision in both eyes."
The rescue did significant fundraising for Ori's surgeries and we were happy to provide substantial funds to assure this young girl a happy life. (January 2019)

Northern Lights Sled Dog Rescue Inc.
-
Lucia - now Lulu
- Indiana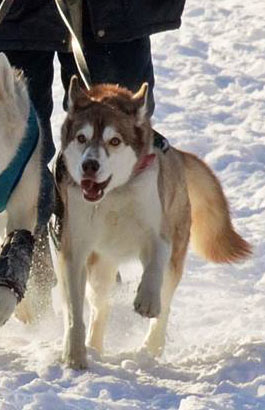 We received this note from Julie Wolszczak, the President of Northern Lights Sled Dog Rescue.
Remember Lulu (originally named Lucia), the puppy with the fractured jaw? I got a nice update and some pics from her mom. She grew up to be such a beautiful girl! They lost the first dog they adopted from us, Batai, awhile back (he's the one that had the Chinese Crested gene and all KINDS of problems) and adopted another special needs pup, Will (something funky with a leg that broke when he was a baby - I don't remember the details).
Her new mom reports that "Lulu is doing so well. She is our only "special" dog that seems totally normal. We need to get her yearly dental cleaning but that is nothing. Her crown is still in place, which we jokingly call her bionic tooth. She is so intelligent and well behaved for a husky. And absolutely perfect on road trips."
"I think the thing I appreciate the most about Lulu is her "nursing" abilities, though. Maybe SOS-SRF would like knowing that she nursed Batai at the end and has been so good to Will, as well." (March 2019)