2019
We have not posted any approved applications for 2019, yet, but we do have an update on one of the dogs we helped in 2016.
Please click on the Funding Requirements link on the left if you have a rescue dog that needs out of the ordinary medical treatment. Please make sure you read and understand our requirements prior to making an application. The link to the rescue application is at the end of the requirements.

Northern Lights Sled Dog Rescue Inc.
-
Lucia - now Lulu
- Indiana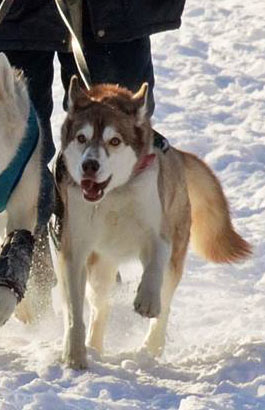 We received this note from Julie Wolszczak, the President of Northern Lights Sled Dog Rescue.
Remember Lulu (originally named Lucia), the puppy with the fractured jaw? I got a nice update and some pics from her mom. She grew up to be such a beautiful girl! They lost the first dog they adopted from us, Batai, awhile back (he's the one that had the Chinese Crested gene and all KINDS of problems) and adopted another special needs pup, Will (something funky with a leg that broke when he was a baby - I don't remember the details).
Her new mom reports that "Lulu is doing so well. She is our only "special" dog that seems totally normal. We need to get her yearly dental cleaning but that is nothing. Her crown is still in place, which we jokingly call her bionic tooth. She is so intelligent and well behaved for a husky. And absolutely perfect on road trips."
"I think the thing I appreciate the most about Lulu is her "nursing" abilities, though. Maybe SOS-SRF would like knowing that she nursed Batai at the end and has been so good to Will, as well."